As the weather turns warmer, it's time to bring your mower out of storage. Have you tuned it up for spring use? Because most mowers sit unused all winter, they need a little effort and attention to be in top shape for the warmer months.

Check out these John Deere mower maintenance tips for what you're able to do at home, and find out what maintenance you should leave to the pros.
7 Mower Tune-Ups You're Able To Do At Home
If you have about an hour on your hands, you could have your mower running like new. Invest some time tuning up your mower before you use it for the first time this spring. As long as you have a knack for mechanics, you should be able to do this mower maintenance on your own, but always consult your operator's manual for recommended service intervals.
1. Clean the underside of the mower and the engine cooling system.
Start by giving your mower a thorough cleaning. If you didn't properly clean your mower before storing it last fall, dirt, leaves, clippings and debris may need to be cleaned out.
2. Change the oil.
Drain and replace the oil and filter in your mower. If your oil isn't changed after every 25 to 50 hours of use, you could damage your engine, so start the season right.
3. Grease the fittings.
Lubricate the fittings with the grease recommended by John Deere.
4. Change the spark plugs.
Increase fuel efficiency and prevent power outages by changing your spark plugs during your spring tune-up, or after 100 hours of use.
5. Change the air filter.
Make sure only clean air is getting into your John Deere mower's engine. Change or clean your air filter as needed.
6.

Sharpen the blades.
When your mower's blades are dull, you don't get a straight, even cut on your grass. After sitting all winter, your spring tune-up is a great time to sharpen your mower's blades.
7.

Visually inspect your tires.
Check your tires. If they deflated while your mower was in storage, they'll need to be aired up – or consider replacing them with Tweel tires, which never go flat. Uneven tire pressure can cause poor mowing results.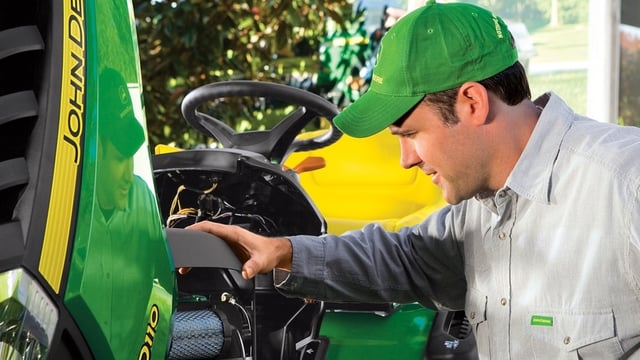 Maintenance You Should Leave To The Pros
While you're able to do much of the spring maintenance at home, there are a few tasks you should leave to p rofessionals. For this more complex maintenance, such as changing drive belts or repairing issues with the engine, transmission or electrical system, partner with Little's John Deere to let an experienced technician do the work.
It's a good idea to schedule an annual service appointment with a trusted John Deere dealership, and it's best to schedule before the busy spring and summer months. Make sure you partner with a dealership whose employees have been through John Deere factory training.

When you maintain your John Deere mower regularly, you'll extend its lifespan and keep it running like new. Contact Little's maintenance experts about scheduling a service appointment.