Deliver A High-Quality Cut In All Conditions
Whether it's climbing hills, jumping curbs or cutting small areas, you should consider a John Deere commercial walk-behind mower. Our expert sales staff helps you find the right machine for your needs and budget. Then, our John Deere-trained service staff backs up your purchase with top-notch maintenance. Plus, our extensive parts inventory ensures you stay up and running.
At Little's, we carry a wide variety of these high-performance machines, and support your operations with:
John Deere's NeverStop™ Loaner Guarantee
Our Same Day and Next Day Parts Guarantees
John Deere Financial Financing and Leasing Options
GreenFleet Loyalty Rewards
Explore Our Wide Selection Of John Deere Commercial Walk Behind Mowers
Click on products below to learn more.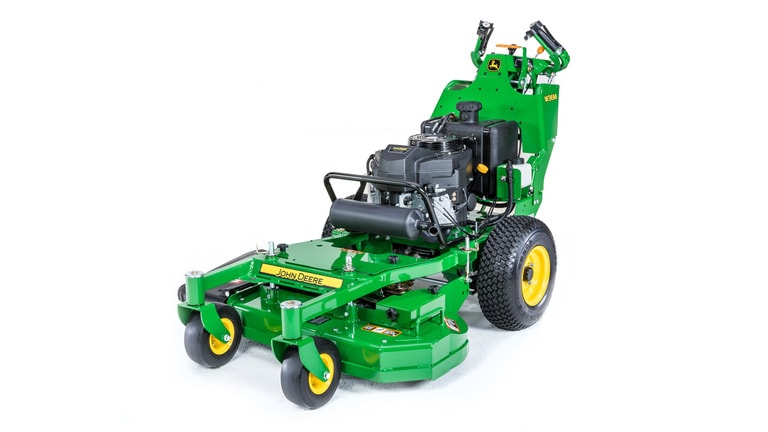 M Series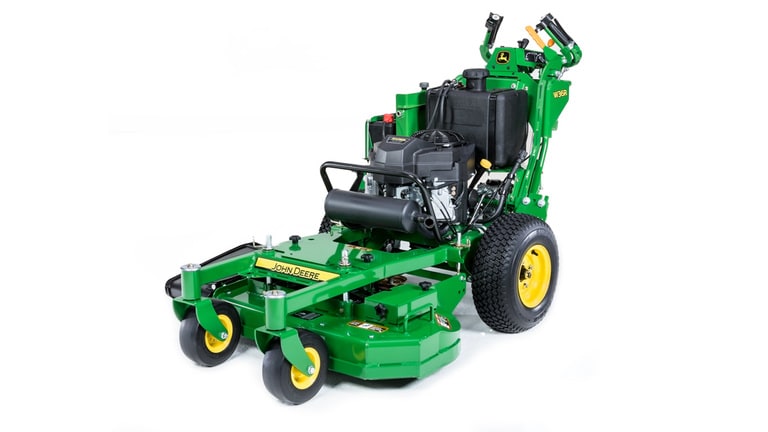 R Series
M Series
Available models: W36MW48M
Details:
W36M
Commercial Walk-Behind Mower
36-inch (91-cm) floating mower deck
Smooth-running, 14.5 hp (10.8 kW) V-twin engine
Self-propelled hydrostatic drive system
Easy-to-use controls for operator comfort and convenience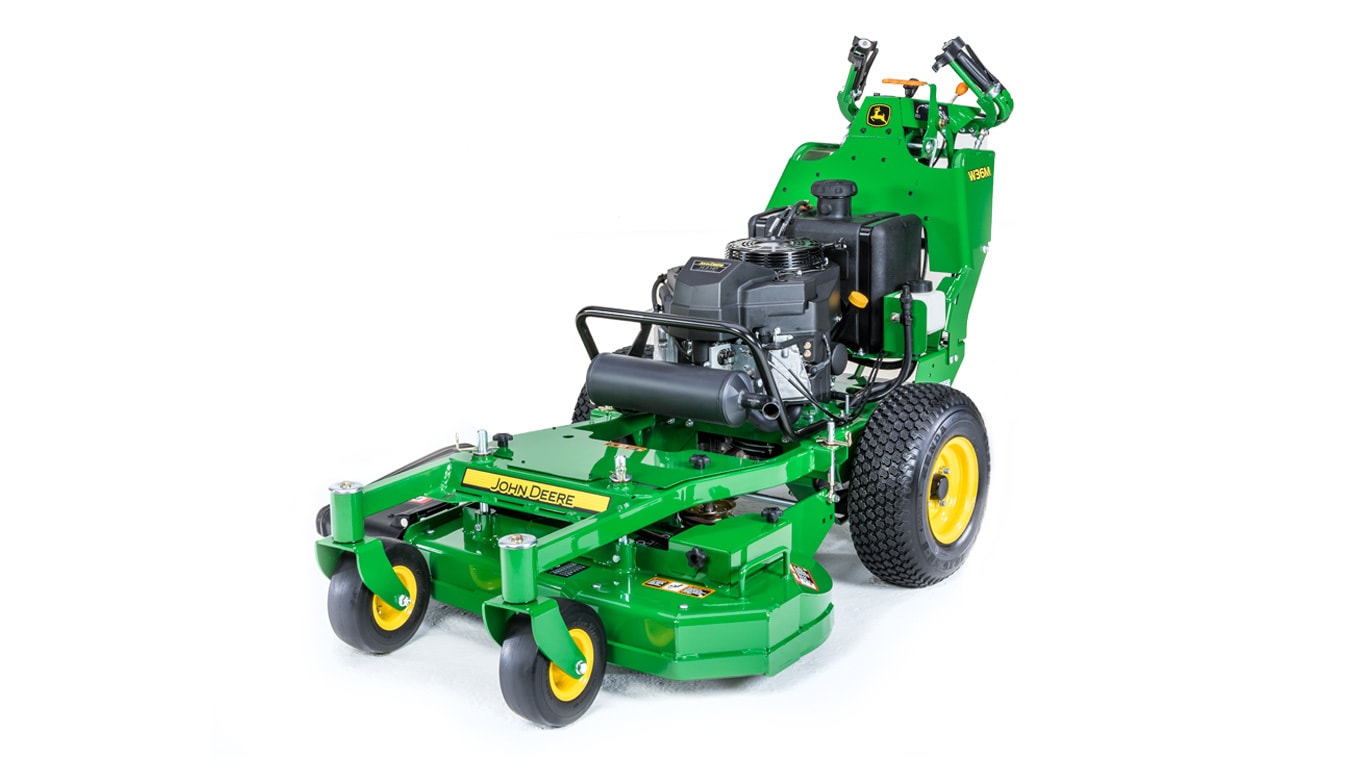 Features:
V-twin engine delivers smooth operation and plenty of power
A fabricated floating mower deck delivers high-quality cut
Optional mulching attachment for extra convenience
Convenient controls for operator comfort and productivity
Serviceability features and 2-year, bumper-to-bumper warranty maximize uptime
Compact design with a strong, welded frame for superior durability
Self-propelled drive system gives infinite mowing speeds
Thoughtful designs promote safe operation
Optional grass catcher makes collecting grass and leaves easy
Specifications:
Engine manufacturer/model

FS481V

Engine power

At 3600 rpm 14.5 hp*
10.8 kW

Fuel tank capacity

5.4 U.S. gal.
20.4 L

Mower deck Size

36 in.
91.4 cm

Blade tip speed

Approximately 18,000 fpm
5,486 m/min

Transmission

Two Hydro-Gear™ ZT-2800™ unitized pump and wheel motor transmissions and ergonomic handles with spring-loaded neutral lock

Speed range

Forward, 0-6.5 mph
0-10.5 km/h
Reverse, 0-3 mph
0-4.8 km/h

Drive wheels

18x6.5-8

Caster wheels

9x3.5-4 semi-pneumatic

Warranty

24 month, single source commercial
Manufacturer/model

FS481V

Power

At 3600 rpm 14.5 hp*
10.8 kW

Displacement

36.8 cu in.
603 cc

Cylinders

V-twin

Operating speed

3,600 rpm

Ignition/Starter

Electronic/recoil start

Valving

Overhead valves

Oil filter

Standard

Lubrication

Full pressure

Governor

Flyweight all speed governor

Hourmeter

Standard, digital

Cooling system

Air cooled

Air cleaner

Paper element with foam precleaner

Muffler

Low tone
Fuel type

Gasoline

Fuel tank capacity

5.4 U.S. gal.
20.4 L

Fuel pump

Vacuum-operated diaphragm

Fuel delivery system

Carburetor

Fuel tank switch/Shut off valve

No

Fuel pickup

Top draw
Ignition

Electronic spark

Hourmeter

Standard, digital

Operator presence starting system

PTO off, park brake engaged, speed lever in neutral
Transmission

Two Hydro-Gear ZT-2800 unitized pump and wheel motor transmissions and ergonomic handles with spring-loaded neutral lock

Shift mechanism

Ergonomic handles with spring-loaded neutral lock
Drive wheels

18x6.5-8

Caster wheels

9x3.5-4 semi-pneumatic
Forward speeds

Infinite

Reverse speeds

Infinite

Speed range

Forward, 0-6.5 mph
0-10.5 km/h
Reverse, 0-3 mph
0-4.8 km/h
Type

Dynamic braking with hand controls, hand lever to set parking brake
Height

44.8 in.
114 cm

Length with deck

76.4 in.
194 cm

Width

Deflector down - 50 in.
127 cm
Deflector up for storage - 40 in.
102 cm

Weight

562 lb
255 kg
Size

Material
10-gauge, 0.14-in. (3.42-mm) fabricated steel deck top with added 10-gauge, 0.14-in. (3.42-mm) spindle mounting plate, 7-gauge, 0.19-in. (4.8-mm) side skirts with reinforcement bar
Blades
Two high-lift
Length - 18 in.
45.7 cm
Thickness - 0.25 in.
0.64 cm
Blade drive
V-Belt
Blade tip speed
Approximately 18,000 fpm
5,486 m/min
Cutting height
1.5-4.5 in.
3.8-11.4 cm
36 in.
91.4 cm
Details:
W48M
Commercial Walk-Behind Mower
48-inch (122-cm) floating mower deck
Smooth-running, 14.5 hp (10.8 kW) V-twin engine
Self-propelled hydrostatic drive system
Easy-to-use controls for operator comfort and convenience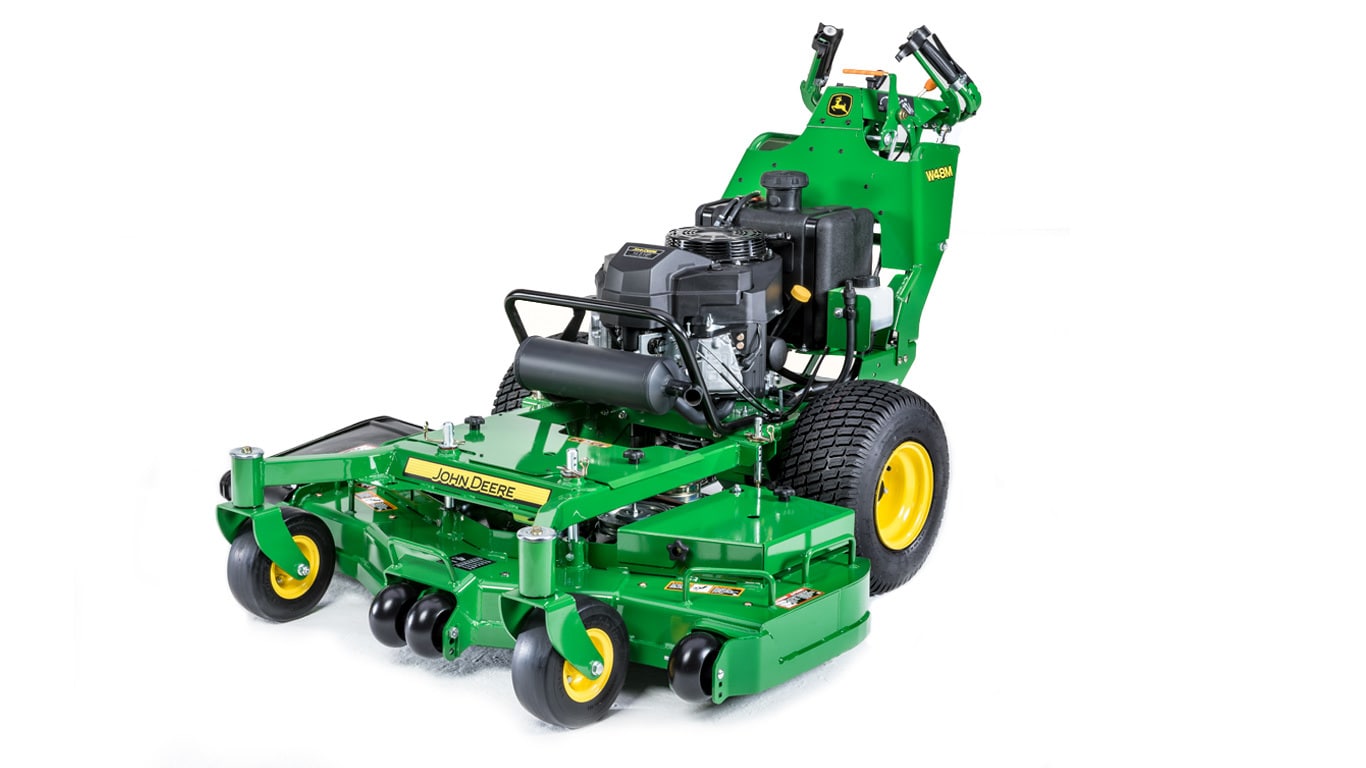 Features:
V-twin engine delivers smooth operation and plenty of power
A fabricated floating mower deck delivers high-quality cut
Optional mulching attachment for extra convenience
Convenient controls for operator comfort and productivity
Serviceability features and 2-year, bumper-to-bumper warranty maximize uptime
Compact design with a strong, welded frame for superior durability
Self-propelled drive system gives infinite mowing speeds
Thoughtful designs promote safe operation
Optional grass catcher makes collecting grass and leaves easy
Specifications:
Engine manufacturer/model

FS481V

Engine power

At 3600 rpm 14.5 hp*
10.8 kW

Fuel tank capacity

5.4 U.S. gal.
20.4 L

Mower deck Size

48 in.
122 cm

Blade tip speed

Approximately 18,000 fpm
5,486 m/min

Transmission

Two Hydro-Gear™ ZT-2800™ unitized pump and wheel motor transmissions and ergonomic handles with spring-loaded neutral lock

Speed range

Forward, 0-6.5 mph
0-10.5 km/h
Reverse, 0-3 mph
0-4.8 km/h

Drive wheels

18x8.5-8

Caster wheels

9x3.5-4 semi-pneumatic

Warranty

24 month, single source commercial
Manufacturer/model

FS481V

Power

At 3600 rpm 14.5 hp*
10.8 kW

Displacement

36.8 cu in.
603 cc

Cylinders

V-twin

Operating speed

3,600 rpm

Ignition/Starter

Electronic/recoil start

Valving

Overhead valves

Oil filter

Standard

Lubrication

Full pressure

Governor

Flyweight all speed governor

Hourmeter

Standard, digital

Cooling system

Air cooled

Air cleaner

Paper element with foam precleaner

Muffler

Low tone
Fuel type

Gasoline

Fuel tank capacity

5.4 U.S. gal.
20.4 L

Fuel pump

Vacuum-operated diaphragm

Fuel delivery system

Carburetor

Fuel tank switch/Shut off valve

No

Fuel pickup

Top draw
Ignition

Electronic spark

Hourmeter

Standard, digital

Operator presence starting system

PTO off, park brake engaged, speed lever in neutral
Transmission

Two Hydro-Gear ZT-2800 unitized pump and wheel motor transmissions and ergonomic handles with spring-loaded neutral lock

Shift mechanism

Ergonomic handles with spring-loaded neutral lock
Drive wheels

18x8.5-8

Caster wheels

9x3.5-4 semi-pneumatic
Forward speeds

Infinite

Reverse speeds

Infinite

Speed range

Forward, 0-6.5 mph
0-10.5 km/h
Reverse, 0-3 mph
0-4.8 km/h
Type

Dynamic braking with hand controls, hand lever to set parking brake
Height

44.8 in.
114 cm

Length with deck

74 in.
188 cm

Width

Deflector down - 62 in.
157 cm
Deflector up for storage - 50 in.
127 cm

Weight

622 lb
282 kg
Size

Material
10-gauge, 0.14-in. (3.42-mm) fabricated steel deck top with added 10-gauge, 0.14-in. (3.42-mm) spindle mounting plate, 7-gauge, 0.19-in. (4.8-mm) side skirts with reinforcement bar
Blades
Three high-lift
Length - 16.5 in.
41.9 cm
Thickness - 0.25 in.
0.64 cm
Blade drive
V-Belt
Blade tip speed
Approximately 18,000 fpm
5,486 m/min
Cutting height
1.5-4.5 in.
3.8-11.4 cm
48 in.
122 cm
R Series
Available models: W36RW48RW52RW61R
Details:
W36R
Commercial Walk-Behind Mower
36-inch (91-cm) floating mower deck
Powerful 14.5 hp (10.8 kW) V-twin engine
Self-propelled hydrostatic drive system
Easy-to-use controls for operator comfort and convenience
Features:
V-twin engine delivers smooth operation and plenty of power
A fabricated floating mower deck delivers high-quality cut
Optional mulching attachment for extra convenience
Convenient controls for operator comfort and productivity
Serviceability features and 2-year, bumper-to-bumper warranty maximize uptime
Compact design with a strong, welded frame for superior durability
Self-propelled drive system gives infinite mowing speeds
Thoughtful designs promote safe operation
Optional grass catcher makes collecting grass and leaves easy
Specifications:
Engine manufacturer/model

FS481V - California Air Resources Board (CARB) compliant

Engine power

At 3600 rpm 14.5 hp*
10.8 kW

Fuel tank capacity

5.4 U.S. gal.
20.4 L

Mower deck Size

36 in.
91.4 cm

Blade tip speed

Approximately 18,000 fpm
5,486 m/min

Transmission

Two Hydro-Gear™, 0.73-cu in. (10-cc) hydraulic pumps and Danfoss 12 cu-in. (197-cc) wheel motors and ergonomic handles with spring loaded neutral lock

Speed range

Forward, 0-7.5 mph
0-12.1 km/h
Reverse, 0-3 mph
0-4.8 mph

Drive wheels

18x6.5-8

Caster wheels

9x3.5-4 semi-pneumatic

Warranty

24 month, single source commercial
Manufacturer/model

FS481V - California Air Resources Board (CARB)

Power

At 3600 rpm 14.5 hp*
10.8 kW

Displacement

36.8 cu in.
603 cc

Cylinders

V-twin

Operating speed

3,600 rpm

Ignition/Starter

Electronic/electric start

Valving

Overhead valves

Oil filter

Standard

Lubrication

Full pressure

Governor

Flyweight all speed governor

Hourmeter

Standard, digital

Cooling system

Air cooled

Air cleaner

Paper element with foam precleaner

Muffler

Low tone
Fuel type

Gasoline

Fuel tank capacity

5.4 U.S. gal.
20.4 L

Fuel pump

Vacuum-operated diaphragm

Fuel delivery system

Carburetor

Fuel tank switch/Shut off valve

No

Fuel pickup

Top draw
Ignition

Electronic spark

Hourmeter

Standard, digital

Operator presence starting system

PTO off, park brake engaged, speed lever in neutral
Transmission

Two Hydro-Gear, 0.73-cu in. (10-cc) hydraulic pumps and Danfoss 12 cu-in. (197-cc) wheel motors and ergonomic handles with spring loaded neutral lock

Wheel motors

Danfoss 12 cu in.
197 cc

Shift mechanism

Ergonomic handles with spring-loaded neutral lock
Drive wheels

18x6.5-8

Caster wheels

9x3.5-4 semi-pneumatic
Forward speeds

Infinite

Reverse speeds

Infinite

Speed range

Forward, 0-7.5 mph
0-12.1 km/h
Reverse, 0-3 mph
0-4.8 km/h
Type

Dynamic braking with hand controls, hand lever to set parking brake
Height

44.8 in.
114 cm

Length with deck

76.4 in.
194 cm

Width

Deflector down - 50 in.
127 cm
Deflector up for storage - 40 in.
102 cm

Weight

616 lb
279 kg
Size

Material
10-gauge, 0.14-in. (3.42-mm) fabricated steel deck top with added 10-gauge, 0.14-in. (3.42-mm) spindle mounting plate, 7-gauge, 0.19-in. (4.8-mm) side skirts with reinforcement bar
Blades
Two high-lift
Length - 18 in.
45.7 cm
Thickness - 0.25 in.
0.64 cm
Blade drive
V-belt
Blade tip speed
Approximately 18,000 fpm
5,486 m/min
Cutting height
1.5-4.5 in.
3.8-11.4 cm
36 in.
91.4 cm
Details:
W48R
Commercial Walk-Behind Mower
48-inch (122-cm) floating mower deck
Powerful 18.5 hp (13.8 kW) V-twin engine
Self-propelled hydrostatic drive system
Easy-to-use controls for operator comfort and convenience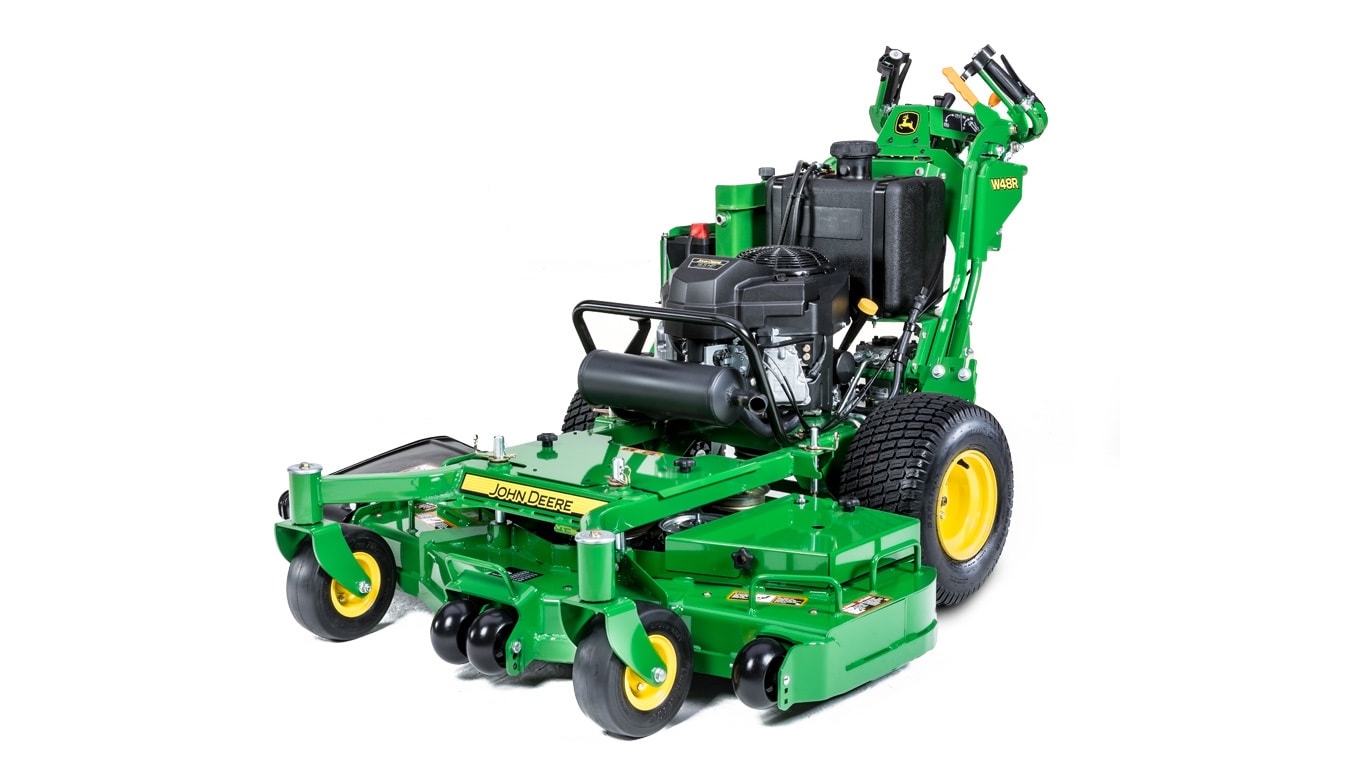 Features:
V-twin engine delivers smooth operation and plenty of power
A fabricated floating mower deck delivers high-quality cut
Optional mulching attachment for extra convenience
Convenient controls for operator comfort and productivity
Serviceability features and 2-year, bumper-to-bumper warranty maximize uptime
Compact design with a strong, welded frame for superior durability
Self-propelled drive system gives infinite mowing speeds
Thoughtful designs promote safe operation
Optional grass catcher makes collecting grass and leaves easy
Specifications:
Engine manufacturer/model

FS600V - California Air Resources Board (CARB) compliant

Engine power

At 3600 rpm 18.5 hp*
13.8 kW

Fuel tank capacity

5.4 U.S. gal.
20.4 L

Mower deck Size

48 in.
122 cm

Blade tip speed

Approximately 18,000 fpm
5,486 m/min

Transmission

Two Hydro-Gear™, 0.73-cu in. (10-cc) hydraulic pumps and Danfoss 12 cu-in. (197-cc) wheel motors and ergonomic handles with spring loaded neutral lock

Speed range

Forward, 0-7.5 mph
0-12.1 km/h
Reverse, 0-3 mph
0-4.8 km/h

Drive wheels

18x8.5-8

Caster wheels

9x3.5-4 semi-pneumatic

Warranty

24 month, single source commercial
Manufacturer/model

FS600V - California Air Resources Board (CARB) compliant

Power

At 3600 rpm 18.5 hp*
13.8 kW

Displacement

36.8 cu in.
603 cc

Cylinders

V-twin

Operating speed

3,600 rpm

Ignition/Starter

Electronic/electric start

Valving

Overhead valves

Oil filter

Standard

Lubrication

Full pressure

Governor

Flyweight all speed governor

Hourmeter

Standard, digital

Cooling system

Air cooled

Air cleaner

Paper element with foam precleaner

Muffler

Low tone
Fuel type

Gasoline

Fuel tank capacity

5.4 U.S. gal.
20.4 L

Fuel pump

Vacuum-operated diaphragm

Fuel delivery system

Carburetor

Fuel tank switch/Shut off valve

No

Fuel pickup

Top draw
Ignition

Electronic spark

Hourmeter

Standard, digital

Operator presence starting system

PTO off, park brake engaged, speed lever in neutral
Transmission

Two Hydro-Gear, 0.73-cu in. (10-cc) hydraulic pumps and Danfoss 12 cu-in. (197-cc) wheel motors and ergonomic handles with spring loaded neutral lock

Wheel motors

Danfoss 12 cu in.
197 cc

Shift mechanism

Ergonomic handles with spring-loaded neutral lock
Drive wheels

18x8.5-8

Caster wheels

9x3.5-4 semi-pneumatic
Forward speeds

Infinite

Reverse speeds

Infinite

Speed range

Forward, 0-7.5 mph
0-12.1 km/h
Reverse, 0-3 mph
0-4.8 km/h
Type

Dynamic braking with hand controls, hand lever to set parking brake
Height

44.8 in.
114 cm

Length with deck

74 in.
188 cm

Width

Deflector down - 62 in.
157 cm
Deflector up for storage - 50 in.
127 cm

Weight

669 lb
303 kg
Size

Material
10-gauge, 0.14-in. (3.42-mm) fabricated steel deck top with added 10-gauge, 0.14-in. (3.42-mm) spindle mounting plate, 7-gauge, 0.19-in. (4.8-mm) side skirts with reinforcement bar
Blades
Three high-lift
Length - 16.5 in.
41.9 cm
Thickness - 0.25 in.
0.64 cm
Blade drive
V-Belt
Blade tip speed
Approximately 18,000 fpm
5,486 m/min
Cutting height
1.5-4.5 in.
3.8-11.4 cm
48 in.
122 cm
Details:
W52R
Commercial Walk-Behind Mower
52-inch (132-cm) floating mower deck
Powerful 18.5 hp (13.8 kW) V-twin engine
Self-propelled hydrostatic drive system
Easy-to-use controls for operator comfort and convenience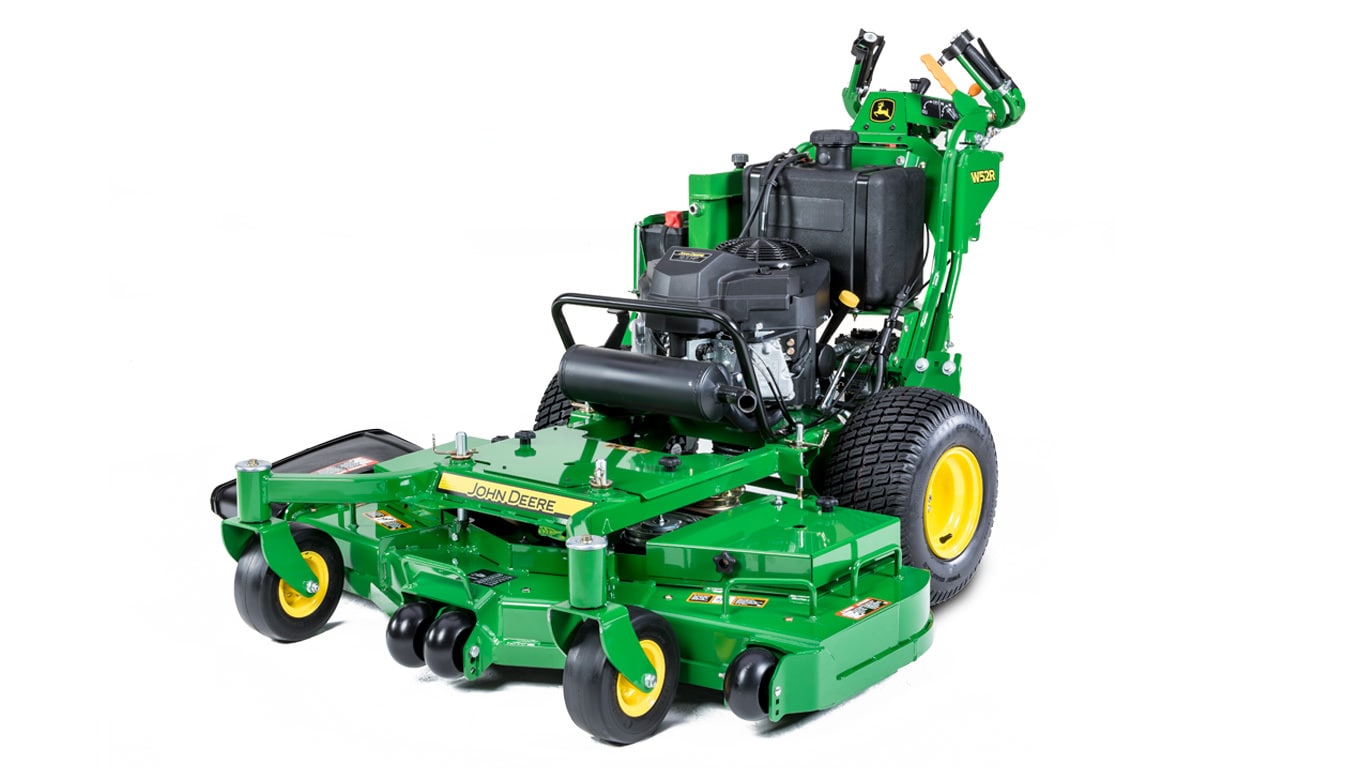 Features:
V-twin engine delivers smooth operation and plenty of power
A fabricated floating mower deck delivers high-quality cut
Optional mulching attachment for extra convenience
Convenient controls for operator comfort and productivity
Serviceability features and 2-year, bumper-to-bumper warranty maximize uptime
Compact design with a strong, welded frame for superior durability
Self-propelled drive system gives infinite mowing speeds
Thoughtful designs promote safe operation
Optional grass catcher makes collecting grass and leaves easy
Specifications:
Engine manufacturer/model

FS600V - California Air Resources Board (CARB) compliant

Engine power

At 3600 rpm 18.5 hp*
13.8 kW

Fuel tank capacity

5.4 U.S. gal.
21.9 L

Mower deck Size

52 in.
132 cm

Blade tip speed

Approximately 18,000 fpm
5,486 m/min

Transmission

Two Hydro-Gear™, 0.73-cu in. (10-cc) hydraulic pumps and Danfoss 12 cu-in. (197-cc) wheel motors and ergonomic handles with spring loaded neutral lock

Speed range

Forward, 0-7.5 mph
0-12.1 km/h
Reverse, 0-3 mph
0-4.8 km/h

Drive wheels

18x8.5-8

Caster wheels

9x3.5-4 semi-pneumatic

Warranty

24 month, single source commercial
Manufacturer/model

FS600V - California Air Resources Board (CARB) compliant

Power

At 3600 rpm 18.5 hp*
13.8 kW

Displacement

36.8 cu in.
603 cc

Cylinders

V-twin

Operating speed

3,600 rpm

Ignition/Starter

Electronic/electric start

Valving

Overhead valves

Oil filter

Standard

Lubrication

Full pressure

Governor

Flyweight all speed governor

Hourmeter

Standard, digital

Cooling system

Air cooled

Air cleaner

Paper element with foam precleaner

Muffler

Low tone
Fuel type

Gasoline

Fuel tank capacity

5.4 U.S. gal.
20.4 L

Fuel pump

Vacuum-operated diaphragm

Fuel delivery system

Carburetor

Fuel tank switch/Shut off valve

No

Fuel pickup

Top draw
Ignition

Electronic spark

Hourmeter

Standard, digital

Operator presence starting system

PTO off, park brake engaged, speed lever in neutral
Transmission

Two Hydro-Gear, 0.73-cu in. (10-cc) hydraulic pumps and Danfoss 12 cu-in. (197-cc) wheel motors and ergonomic handles with spring loaded neutral lock

Wheel motors

Danfoss 12 cu in.
197 cc

Shift mechanism

Ergonomic handles with spring-loaded neutral lock
Drive wheels

18x8.5-8

Caster wheels

9x3.5-4 semi-pneumatic
Forward speeds

Infinite

Reverse speeds

Infinite

Speed range

Forward, 0-7.5 mph
0-12.1 km/h
Reverse, 0-3 mph
0-4.8 km/h
Type

Dynamic braking with hand controls, hand lever to set parking brake
Height

44.8 in.
114 cm

Length with deck

74.5 in.
189 cm

Width

Deflector down - 66 in.
168 cm
Deflector up for storage - 56 in.
142 cm

Weight

679 lb
308 kg
Size

Material
10-gauge, 0.14-in. (3.42-mm) fabricated steel deck top with added 10-gauge, 0.14-in. (3.42-mm) spindle mounting plate, 7-gauge, 0.19-in. (4.8-mm) side skirts with reinforcement bar
Blades
Three high-lift
Length - 18 in.
45.7 cm
Thickness - 0.25 in.
0.64 cm
Blade drive
V-Belt
Blade tip speed
Approximately 18,000 fpm
5,486 m/min
Cutting height
1.5-4.5 in.
3.8-11.4 cm
52 in.
132 cm
Details:
W61R
Commercial Walk-Behind Mower
61-inch (155-cm) floating mower deck
Powerful 25 hp (18.6 kW) V-twin engine
Self-propelled hydrostatic drive system
Easy-to-use controls for operator comfort and convenience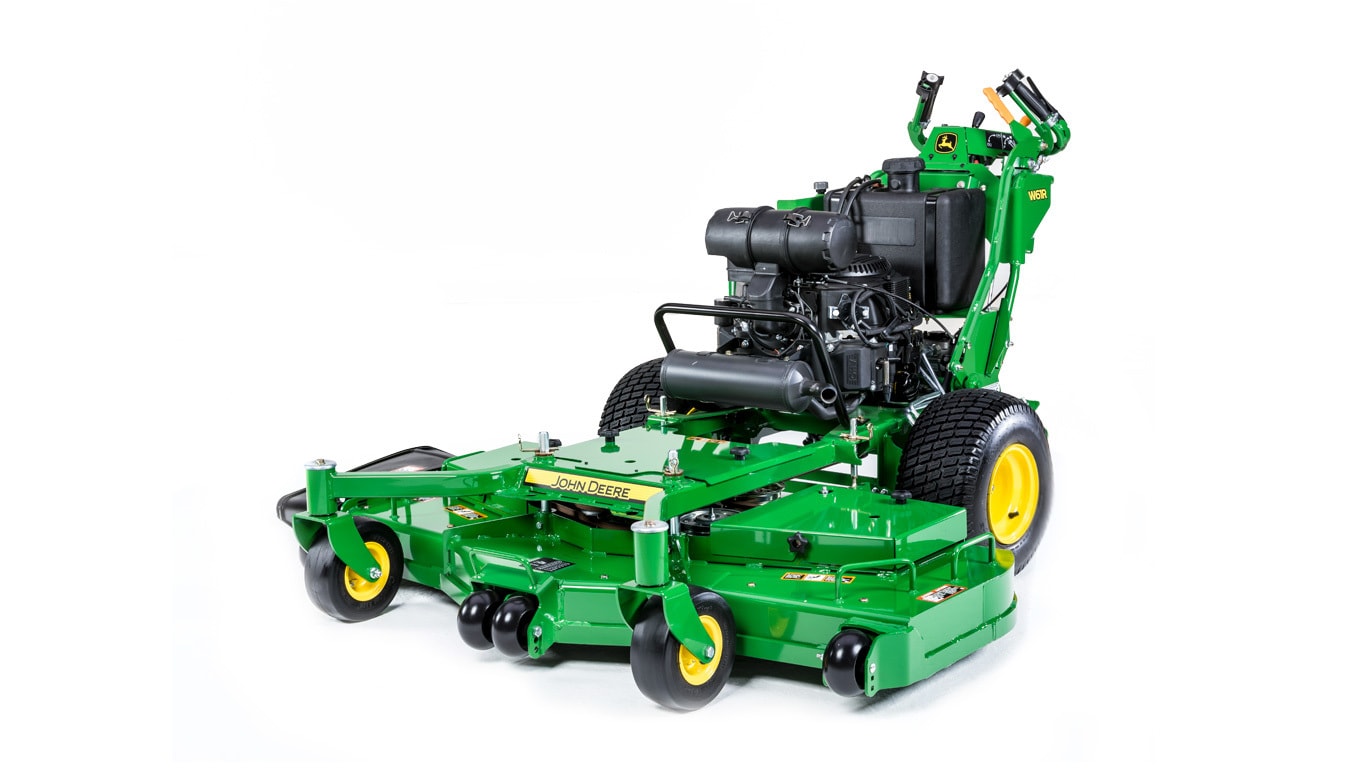 Features:
V-twin engine delivers smooth operation and plenty of power
A fabricated floating mower deck delivers high-quality cut
Optional mulching attachment for extra convenience
Convenient controls for operator comfort and productivity
Serviceability features and 2-year, bumper-to-bumper warranty maximize uptime
Compact design with a strong, welded frame for superior durability
Self-propelled drive system gives infinite mowing speeds
Thoughtful designs promote safe operation
Specifications:
Engine manufacturer/model

ECV740-EFI - California Air Resources Board (CARB) compliant

Engine power

At 3600 rpm 25 hp*
18.6 kW

Fuel tank capacity

5.4 U.S. gal.
20.4 L

Mower deck Size

61 in.
155 cm

Blade tip speed

Approximately 18,000 fpm
5,486 m/min

Transmission

Two Hydro-Gear™, 0.73-cu in. (10-cc) hydraulic pumps and Danfoss 12 cu-in. (197-cc) wheel motors and ergonomic handles with spring loaded neutral lock

Speed range

Forward, 0-7.5 mph
0-12.1 km/h
Reverse, 0-3 mph
0-4.8 km/h

Drive wheels

18x8.5-8

Caster wheels

9x3.5-4 semi-pneumatic

Warranty

24 month, single source commercial
Manufacturer/model

ECV740-EFI - California Air Resources Board (CARB) compliant

Power

At 3600 rpm 25 hp*
18.6 kW

Displacement

45.6 cu in.
747 cc

Cylinders

V-twin

Operating speed

3,600 rpm

Ignition/Starter

Electronic/electric start

Valving

Overhead valves

Oil filter

Standard

Lubrication

Full pressure

Governor

Flyweight all speed governor

Hourmeter

Standard, digital

Cooling system

Air cooled

Air cleaner

Dual HD canister

Muffler

Low tone
Fuel type

Gasoline

Fuel tank capacity

5.4 U.S. gal.
20.4 L

Fuel pump

Vacuum-operated diaphragm

Fuel delivery system

Closed-loop electronic fuel injection (EFI)

Fuel tank switch/Shut off valve

No

Fuel pickup

Top draw
Ignition

Electronic spark

Hourmeter

Standard, digital

Operator presence starting system

PTO off, park brake engaged, speed lever in neutral
Transmission

Two Hydro-Gear, 0.73-cu in. (10-cc) hydraulic pumps and Danfoss 12 cu-in. (197-cc) wheel motors and ergonomic handles with spring loaded neutral lock

Wheel motors

Danfoss 12 cu in.
197 cc

Shift mechanism

Ergonomic handles with spring-loaded neutral lock
Drive wheels

18x8.5-8

Caster wheels

9x3.5-4 semi-pneumatic
Forward speeds

Infinite

Reverse speeds

Infinite

Speed range

Forward, 0-7.5 mph
0-12.1 km/h
Reverse, 0-3 mph
0-4.8 km/h
Type

Dynamic braking with hand controls, hand lever to set parking brake
Height

44.8 in.
114 cm

Length with deck

83 in.
211 cm

Width

Deflector down - 75 in.
191 cm
Deflector up for storage - 65 in.
165 cm

Weight

745 lb
338 kg
Size

Material
10-gauge, 0.14-in. (3.42-mm) fabricated steel deck top with added 10-gauge, 0.14-in. (3.42-mm) spindle mounting plate, 7-gauge, 0.19-in. (4.8-mm) side skirts with reinforcement bar
Blades
Three high-lift
Length - 21 in.
53.3 cm
Thickness - 0.25 in.
0.64 cm
Blade drive
V-Belt
Blade tip speed
Approximately 18,000 fpm
5,486 m/min
Cutting height
1.5-4.5 in.
3.8-11.4 cm
61 in.
155 cm
Fulfill Your Lawn Care Needs, Big Or Small