Mow All Day With Best-In-Class Mowers
If you need best-in-class operator positioning, maneuverability and stability to power your commercial mowing business, you need John Deere QuikTrak stand-on mowers. Our expert sales staff and highly trained maintenance technicians will help guide you to the right mower for your operations, and then support you with uptime-boosting service and repair.
At Little's, we carry a wide variety of these stand-on mowers and support you with:
John Deere's NeverStop™ Loaner Guarantee
Our Same Day and Next Day Parts Guarantees
John Deere Financial Financing and Leasing Options
GreenFleet Loyalty Rewards
Explore Our Wide Selection Of John Deere Quiktrak Stand On Mowers
Click on products below to learn more.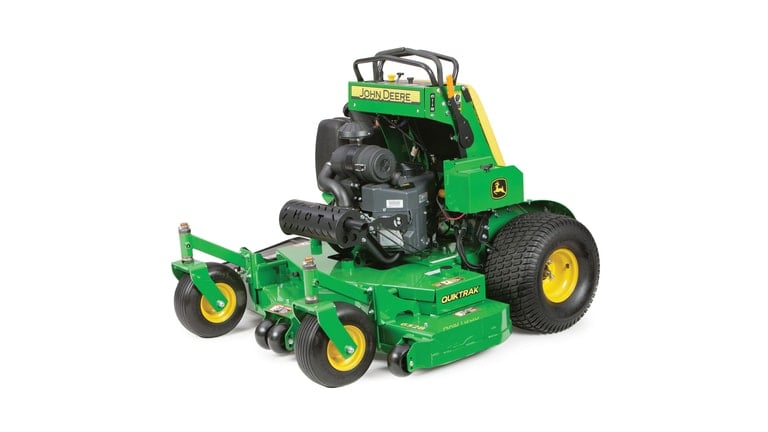 E Series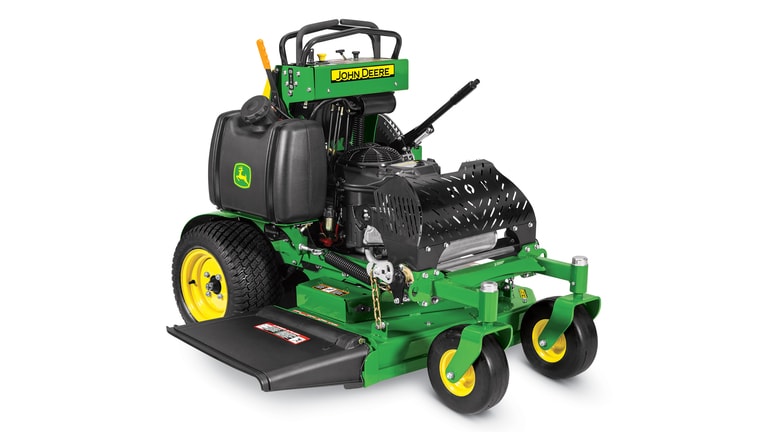 M Series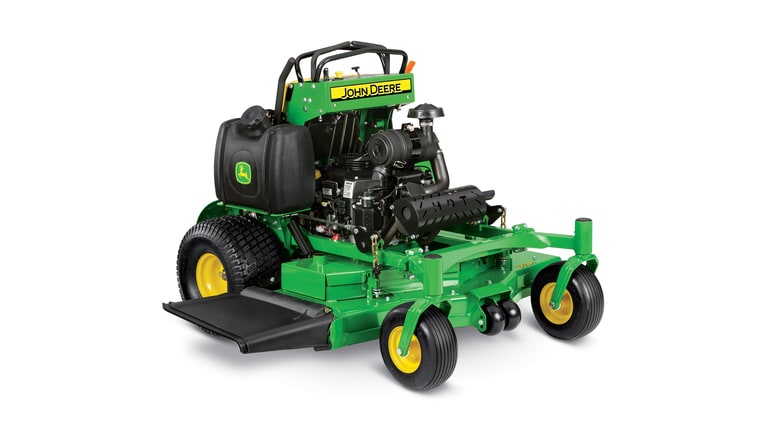 R Series
E Series
Details:
652E
QuikTrak™ Stand-On Mower
Compact design for easy hauling
Hydrostatic drive system
Commercial-quality engine
Easy to maintain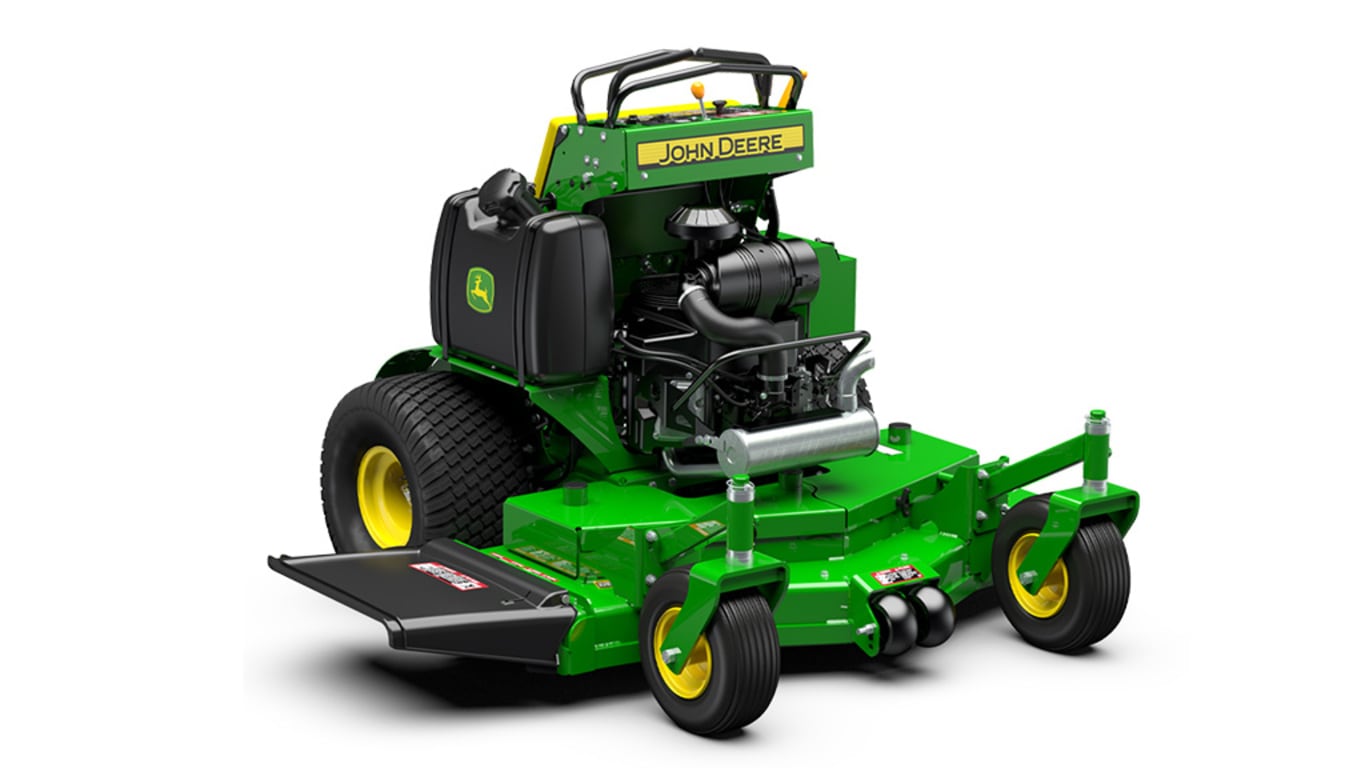 Features:
Commercial-quality engine is reliable and provides excellent performance and life
52-in. (132-cm) fabricated, fixed mower deck is made from 7-gauge, 0.179-in. (4.6-mm) steel for reliability and performance
Large operator platform and quality leaning pad enhance operator comfort
Controls are easy to locate and use for operator comfort and productivity
Exclusive two-year, bumper-to-bumper warranty is standard with a QuikTrak™ Mower
Maintenance is simple and easy to reduce time and cost
Compact design for easy hauling and excellent maneuverability
Frame is compact and durable for productivity and long life
Hydrostatic drive system is reliable and easy to use
Safety features are built-in to protect the operator and bystanders
Field-installed propane conversion kits for commercial walk-behind mowers, QuikTrak™ mowers, and commercial ZTrak™ mowers
Specifications:
Engine Manufacturer/model

FX691V

Engine Power

Gross at 3,600 rpm: 22 hp
16.4 kW

Fuel tank capacity

5.6 U.S. gal.
21.2 L

Mower deck Size

52 in.
132 cm

Blade tip speed

18,900 fpm
5,761 m/min

Transmission

Hydrostatic

Speed range

0-9.5 mph
0-15.3 km/h

Drive wheels

20x10-8 Turf Master

Caster wheels

11x4-5

Warranty

24 months
Manufacturer/Model

FX691V

Power

Gorss at 3,600 rpm: 22 hp
16.4 kW

Displacement

44.3 cu in.
726 cc

Cylinders

Two, V-twin

Crankcase capacity

With filter, 2.2 qt
2.1 L

Oil filter

Full flow, replaceable

Lubrication

Full pressure

Cooling

Forced air

Air cleaner

Heavy-duty canister type with safety element
Fuel type

Gasoline

Fuel tank capacity

5.6 U.S. gal.
21.2 L

Fuel tank switch/shut-off valve

Yes
Charge system

At 3,600 rpm, 20 amp

Battery voltage

12 V

Hour meter

Digital

Operator presence starting system

Yes
Transmission

Hydrostatic

Hydraulic pumps

Hydro-Gear with fans, 0.73 cu in.
12 cc

Wheel motors

Hydro-Gear, 15 cu in.
246 cc

Travel speed

Speed range
0-9.5 mph
0-15.3 km/h
Forward
0-9.5 mph
0-15.3 km/h
Reverse
0-5.5 mph
0-8.9 km/h


Speed and direction control

Twin hand-controlled levers

Hydraulic capacity

With filter-wet, 2.9 qt
2.7 L
Dry, 5 qt
4.7 L

Filter

Spin-on replaceable
Drive wheels

20x10-8 Turf Master

Load rating

4 PR
Dynamic braking

Dual hand-controlled levers

Park brake

Tire engagement

Park brake actuation

Hand lever
Type

Electro-Magnetic with brake, 200 lb-ft
271 Nm

Drive

Dual B-section V-belt with Kevlar® cord
Size

52 in.
132 cm

Deck construction

Fabricated steel, fixed mounting

Deck thickness

7 gauge
0.18 in.
4.6 mm

Discharge

Side

Height-of-cut range

Increments
0.25 in.
0.64 cm
1.5-5
3.8-12.7

Cutting width

52 in.
132 cm
Blade tip speed

18,900 fpm
5,761 m/min

Number

Three
Caster wheel type

No-flat semi-pneumatic with sealed bearings

Caster wheels

11x4-5

Front anti-scalp rollers

Center, left
Length

66 in.
167.6 cm

Width

Deflector down, 66 in.
167.6 cm

Height

47 in.
119 cm

Weight

927 lb
420.5 kg
M Series
Available models: 636M648M652M
Details:
636M
QuikTrak™ Stand-On Mower
Compact design for easy hauling
Hydrostatic drive system
Commercial-quality engine
Easy to maintain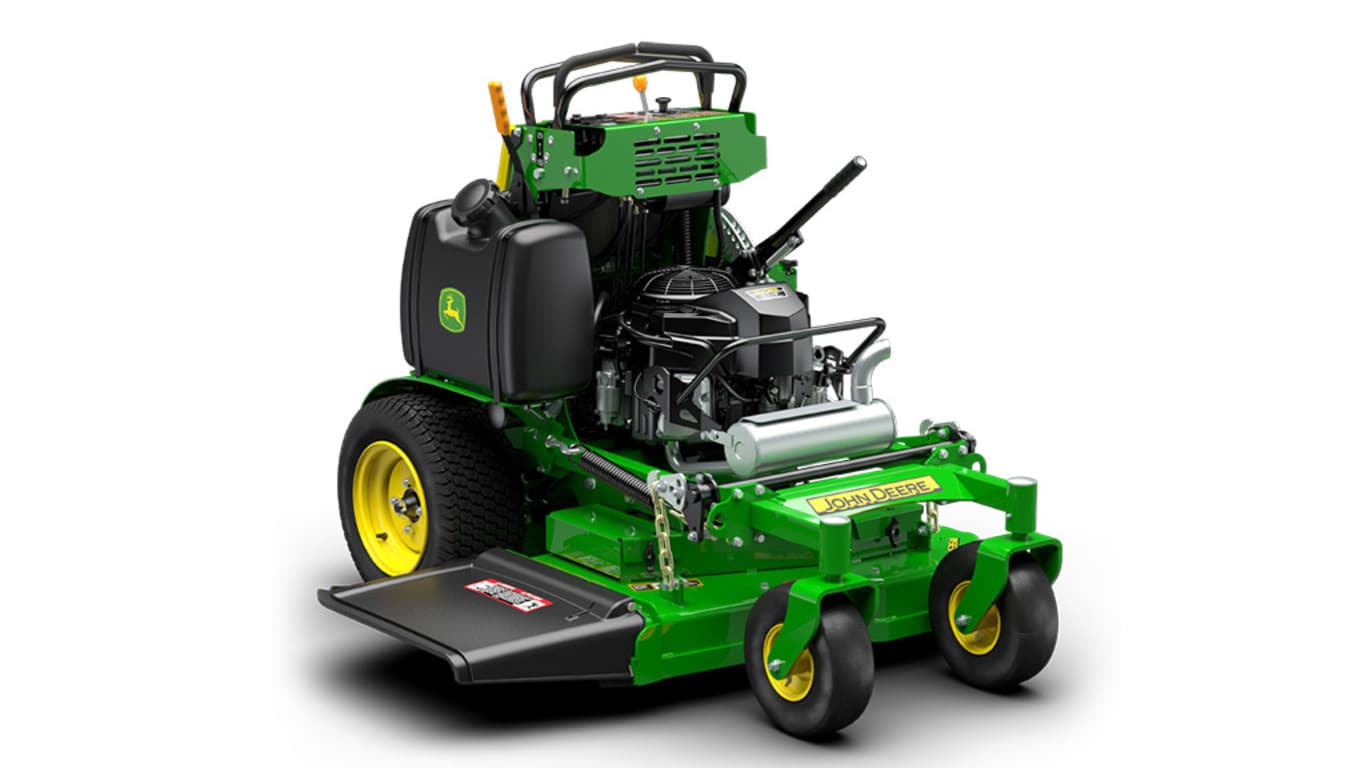 Features:
Commercial-quality engine is reliable and provides excellent performance and life
36-in. (91-cm) fabricated mower deck is made from 7-gauge, 0.179-in. (4.6-mm) steel for reliability and performance
Large operator platform and quality leaning pad enhance operator comfort
Controls are easy to locate and use for operator comfort and productivity
Exclusive two-year, bumper-to-bumper warranty is standard with a QuikTrak™ Mower
Maintenance is simple and easy to reduce time and cost
Compact design for easy hauling and excellent maneuverability
Frame is compact and durable for productivity and long life
Hydrostatic drive system is reliable and easy to use
Safety features are built-in to protect the operator and bystanders
Specifications:
Engine Manufacturer/model

FS600V

Engine power

Gross at 3,600 rpm: 18.5 hp
13.8 kW

Fuel tank capacity

5.5 U.S. gal.
20.8 L

Mower deck size

36 in.
91.4 cm

Blade tip speed

18,900 fpm
5,761 m/min

Transmission

Hydrostatic

Speed range

0-8.2 mph
0-13.2 km/h

Drive wheels

18x8.5-10 Turf Master

Caster wheels

11x4-5

Warranty

24 months
Manufacturer/Model

FS600V

Power

Gross at 3,600 rpm, 18.5 hp
13.8 kW

Displacement

36.8 cu in.
603 cc

Cylinders

Two, V-twin

Crankcase capacity

With filter, 2.2 qt
2.1 L

Oil filter

Full flow, replaceable

Lubrication

Full pressure

Cooling

Forced air

Air cleaner

Dry type, dual stage
Fuel type

Gasoline

Fuel tank capacity

5.5 U.S. gal.
20.8 L

Fuel tank switch/shut-off valve

Yes
Charge system

At 3,600 rpm, 15 amp

Battery voltage

12 V

Cold cranking amp

300 amp

Hour meter

Digital

Operator presence starting system

Yes
Transmission

Hydrostatic

Hydraulic pumps

Hydro-Gear, 0.61 cu in.
10 cc

Wheel motors

Hydro-Gear HGM-P, 12 cu in.
196 cc

Travel speed

Speed range
0-8.2 mph
0-13.2 km/h
Forward
Infinite, 0-8.2 mph
Infinite, 0-13.2 km/h
Reverse
Infinite, 0-3.5 mph
Infinite, 0-5.6 km/h


Speed and direction control

Twin hand-controlled levers

Hydraulic capacity

With filter, dry, 5 qt
4.7 L

Hydraulic oil cooler

Yes

Filter

Spin-on replaceable
Drive wheels

18x8.5-10 Turf Master

Load rating

4 PR
Dynamic braking

Dual hand-controlled levers

Park brake

Tire engagement

Park brake actuation

Hand lever
Type

Electro-magnetic with brake, 125 lb-ft
169 Nm

Drive

Dual B-section V-belt with Kevlar® cord
Size

36 in.
91.4 cm

Deck construction

Fabricated steel, floating mount system

Deck thickness

7 gauge
0.18 in.
4.6 mm

Discharge

Side

Height-of-cut range

Increments
0.25 in.
0.64 cm
1.5-5 in.
3.8-12.7 cm

Cutting width

36 in.
91 cm
Length

18 in.
45.7 cm

Thickness

0.203 in.
0.516 cm

Blade tip speed

18,900 fpm
5,761 m/min

Number

Two
Caster wheel type

No-flat semi-pneumatic with sealed bearings

Caster wheels

11x4-5
Length

62 in.
157.5 cm

Width

Deflector down, 49.5 in.
125.7 cm

Height

46 in.
117 cm

Weight

With full fuel and oil, 731 lb
332 kg
Details:
648M
QuikTrak™ Stand-On Mower
Compact design for easy hauling
Hydrostatic drive system
Commercial-quality engine
Easy to maintain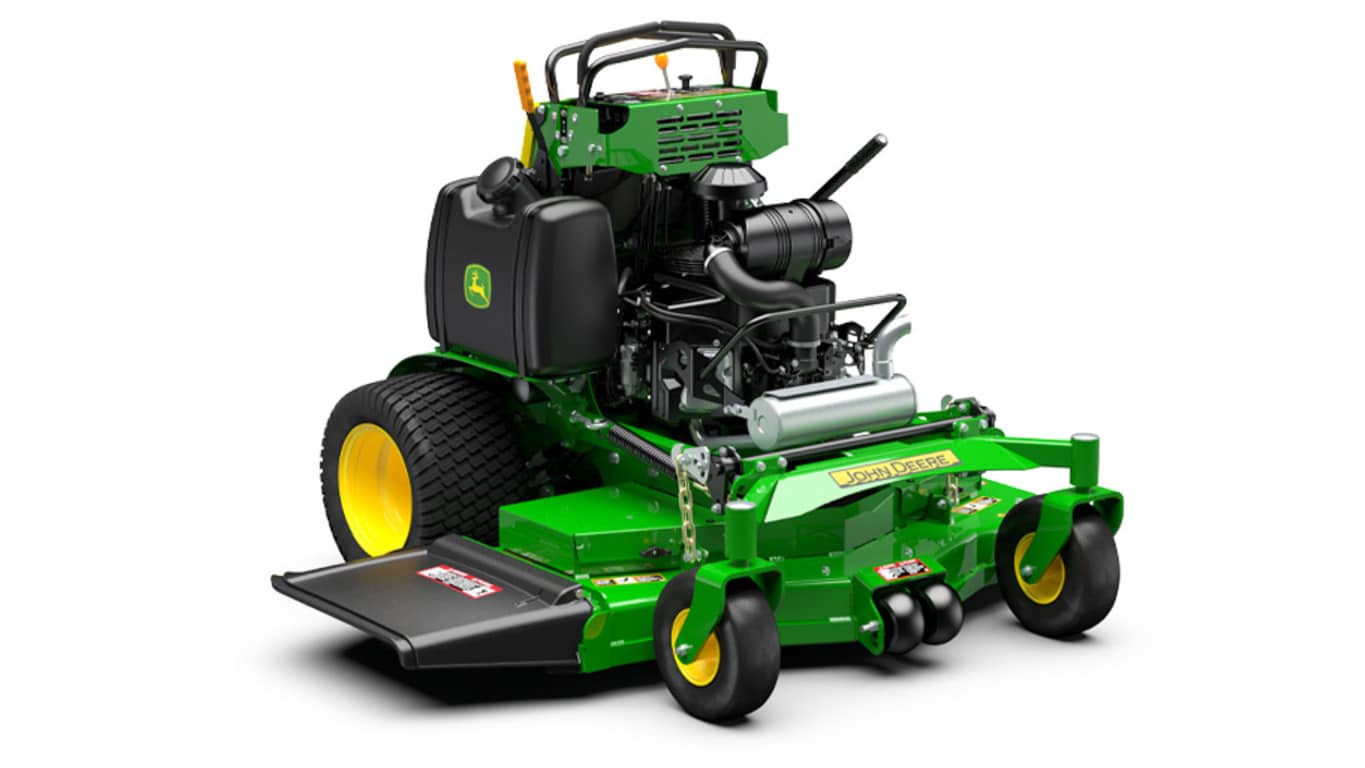 Features:
Commercial-quality engine is reliable and provides excellent performance and life
48-in. (122-cm) fabricated mower deck is made from 7-gauge, 0.179-in. (4.6-mm) steel for reliability and performance
Large operator platform and quality leaning pad enhance operator comfort
Controls are easy to locate and use for operator comfort and productivity
Exclusive two-year, bumper-to-bumper warranty is standard with a QuikTrak™ Mower
Maintenance is simple and easy to reduce time and cost
Compact design for easy hauling and excellent maneuverability
Frame is compact and durable for productivity and long life
Hydrostatic drive system is reliable and easy to use
Safety features are built-in to protect the operator and bystanders
Field-installed propane conversion kits for commercial walk-behind mowers, QuikTrak™ mowers, and commercial ZTrak™ mowers
Specifications:
Engine Manufacturer/model

FX691V

Engine Power

Gross at 3,600 rpm: 22 hp
16.4 kW

Fuel tank capacity

5.5 U.S. gal.
20.8 L

Mower deck Size

48 in.
122 cm

Blade tip speed

18,900 fpm
5,761 m/min

Transmission

Hydrostatic

Speed range

0-8.2 mph
0-13.2 km/h

Drive wheels

18x10.5-10 Turf Master

Caster wheels

11x4.5-6

Warranty

24 months
Manufacturer/Model

FX691V

Power

Gross at 3,600 rpm: 22 hp
16.4 kW

Displacement

44.3 cu in.
726 cc

Cylinders

Two, V-twin

Crankcase capacity

With filter, 2.2 qt
2.1 L

Oil filter

Full flow, replaceable

Lubrication

Full pressure

Cooling

Forced air

Air cleaner

Dry type, dual stage
Fuel type

Gasoline

Fuel tank capacity

5.5 U.S. gal.
20.8 L

Fuel tank switch/shut-off valve

Yes
Charge system

At 3,600 rpm, 15 amp

Battery voltage

12 V

Cold cranking amp

300 amp

Hour meter

Digital

Operator presence starting system

Yes
Transmission

Hydrostatic

Wheel motors

Hydro-Gear HGM-P, 12 cu in.
196 cc

Travel speed

Speed range
0-8.2 mph
0-13.2 km/h
Forward
Infinite, 0-8.2 mph
Infinite, 0-13.2 km/h
Reverse
Infinite, 0-3.5 mph
Infinite, 0-5.6 km/h


Speed and direction control

Twin hand-controlled levers

Hydraulic capacity

With filter, dry, 5 qt
4.7 L

Hydraulic oil cooler

Yes

Filter

Spin-on replaceable
Drive wheels

18x10.5-10 Turf Master

Load rating

4 PR
Dynamic braking

Dual hand-controlled levers

Park brake

Tire engagement

Park brake actuation

Hand lever
Type

Electro-magnetic with brake, 125 lb-ft
169 Nm

Drive

Dual B-section V-belt with Kevlar® cord
Size

48 in.
122 cm

Deck construction

Fabricated steel, floating mount system

Deck thickness

7 gauge
0.18 in.
4.6 mm

Discharge

Side

Height-of-cut range

Increments
0.25 in.
0.64 cm
1.5-5 in.
3.8-12.7 cm

Cutting width

48 in.
122 cm
Length

16.5 in.
41.9 cm

Thickness

0.203 in.
0.516 cm

Blade tip speed

18,900 fpm
5,761 m/min

Number

Three
Caster wheel type

No-flat semi-pneumatic with sealed bearings

Caster wheels

11x4.5-6

Front anti-scalp rollers

Double-captured center
Length

59.75 in.
151.8 cm

Width

Deflector down, 62 in.
157.4 cm

Height

46 in.
117 cm

Weight

With full fuel and oil, 820 lb
372 kg
Details:
652M
QuikTrak™ Stand-On Mower
Compact design for easy hauling
Hydrostatic drive system
Commercial-quality engine
Easy to maintain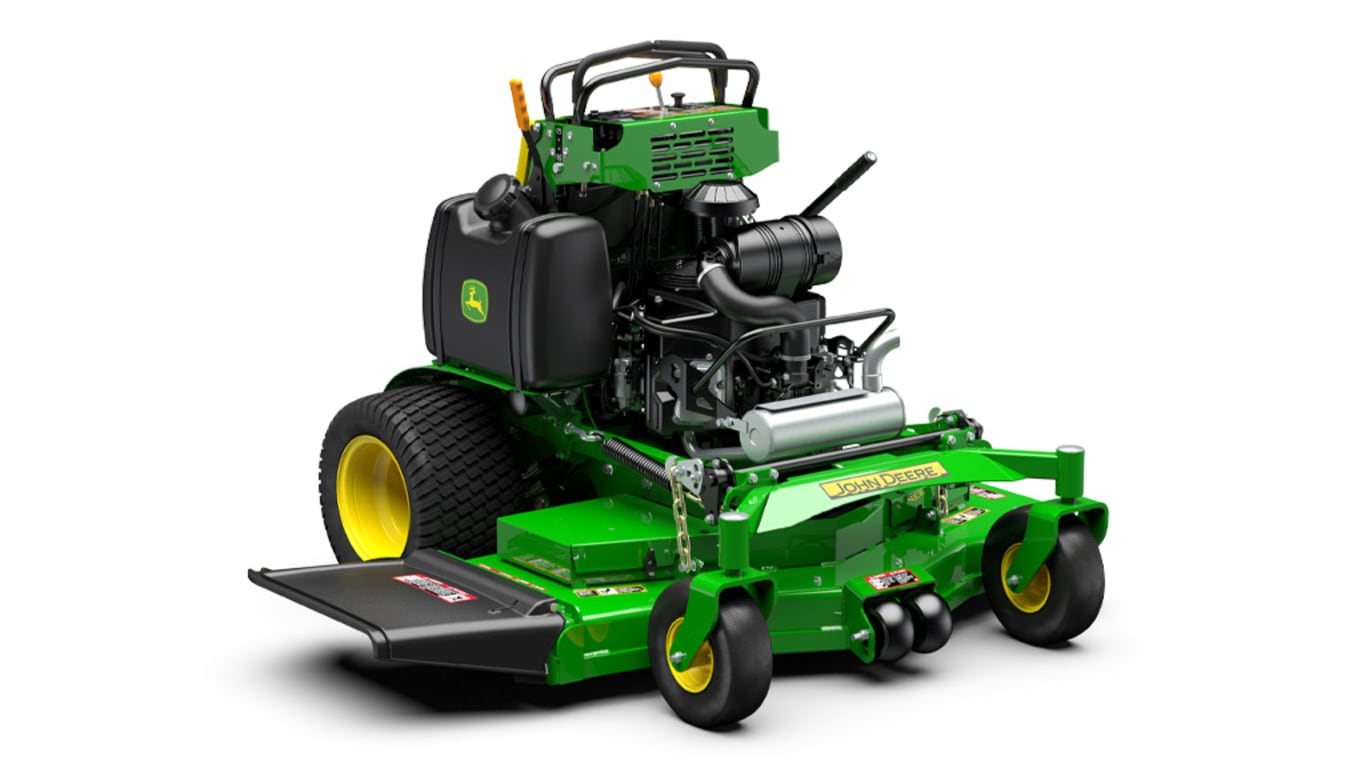 Features:
Commercial-quality engine is reliable and provides excellent performance and life
52-in. (132-cm) fabricated mower deck is made from 7-gauge, 0.179-in. (4.6-mm) steel for reliability and performance
Large operator platform and quality leaning pad enhance operator comfort
Controls are easy to locate and use for operator comfort and productivity
Exclusive two-year, bumper-to-bumper warranty is standard with a QuikTrak™ Mower
Maintenance is simple and easy to reduce time and cost
Compact design for easy hauling and excellent maneuverability
Frame is compact and durable for productivity and long life
Hydrostatic drive system is reliable and easy to use
Safety features are built-in to protect the operator and bystanders
Field-installed propane conversion kits for commercial walk-behind mowers, QuikTrak™ mowers, and commercial ZTrak™ mowers
Specifications:
Engine Manufacturer/model

FX691V

Engine Power

Gross at 3,600 rpm: 22 hp
16.4 kW

Fuel tank capacity

5.5 U.S. gal.
20.8 L

Mower deck Size

52 in.
132 cm

Blade tip speed

18,900 fpm
5,761 m/min

Transmission

Hydrostatic

Speed range

0-8.2 mph
0-13.2 km/h

Drive wheels

18x10.5-10 Turf Master

Caster wheels

11x4.5-6

Warranty

24 months
Manufacturer/Model

FX691V

Power

Gross at 3,600 rpm: 22 hp
16.4 kW

Displacement

44.3 cu in.
726 cc

Cylinders

Two, V-twin

Crankcase capacity

With filter, 2.2 qt
2.1 L

Oil filter

Full flow, replaceable

Lubrication

Full pressure

Cooling

Forced air

Air cleaner

Dry type, dual stage
Fuel type

Gasoline

Fuel tank capacity

5.5 U.S. gal.
20.8 L

Fuel tank switch/shut-off valve

Yes
Charge system

At 3,600 rpm, 15 amp

Battery voltage

12 V

Cold cranking amp

300 amp

Hour meter

Digital

Operator presence starting system

Yes
Transmission

Hydrostatic

Hydraulic pumps

Hydro-Gear®, 0.61 cu in.
10 cc

Wheel motors

Hydro-Gear HGM-P, 12 cu in.
196 cc

Travel speed

Speed range
0-8.2 mph
0-13.2 km/h
Forward
Infinite: 0-8.2 mph
Infinite, 0-13.2 km/h
Reverse
Infinite, 0-3.5 mph
Infinite, 0-5.6 km/h


Speed and direction control

Twin hand-controlled levers

Hydraulic capacity

With filter, dry, 5 qt
4.7 L

Hydraulic oil cooler

Yes

Filter

Spin-on replaceable
Drive wheels

18x10.5-10 Turf Master

Load rating

4 PR
Dynamic braking

Dual hand-controlled levers

Park brake

Tire engagement

Park brake actuation

Hand lever
Type

Electro-magnetic with brake, 125 lb-ft
169 Nm

Drive

Dual B-section V-belt with Kevlar® cord
Size

52 in.
132 cm

Deck construction

Fabricated steel, floating mount system

Deck thickness

7 gauge
0.18 in.
4.6 mm

Discharge

Side

Height-of-cut range

Increments
0.25 in.
0.64 cm
1.5-5 in.
3.8-12.7 cm

Cutting width

52 in.
132 cm
Length

18 in.
45.7 cm

Thickness

0.203 in.
5.16 mm

Blade tip speed

18,900 fpm
5,761 m/min

Number

Three
Caster wheel type

No-flat semi-pneumatic with sealed bearings

Caster wheels

11x4.5-6

Front anti-scalp rollers

Single left, double-captured center
Length

59.75 in.
151.8 cm

Width

Deflector down, 66 in.
167.6 cm

Height

46 in.
117 cm

Weight

With full fuel and oil, 828 lb
375 kg
R Series
Available models: 648R652R652R EFI661R661R EFI
Details:
648R
QuikTrak™ Stand-On Mower
Compact design for easy hauling
Hydrostatic drive system
Commercial-quality engine
Easy to maintain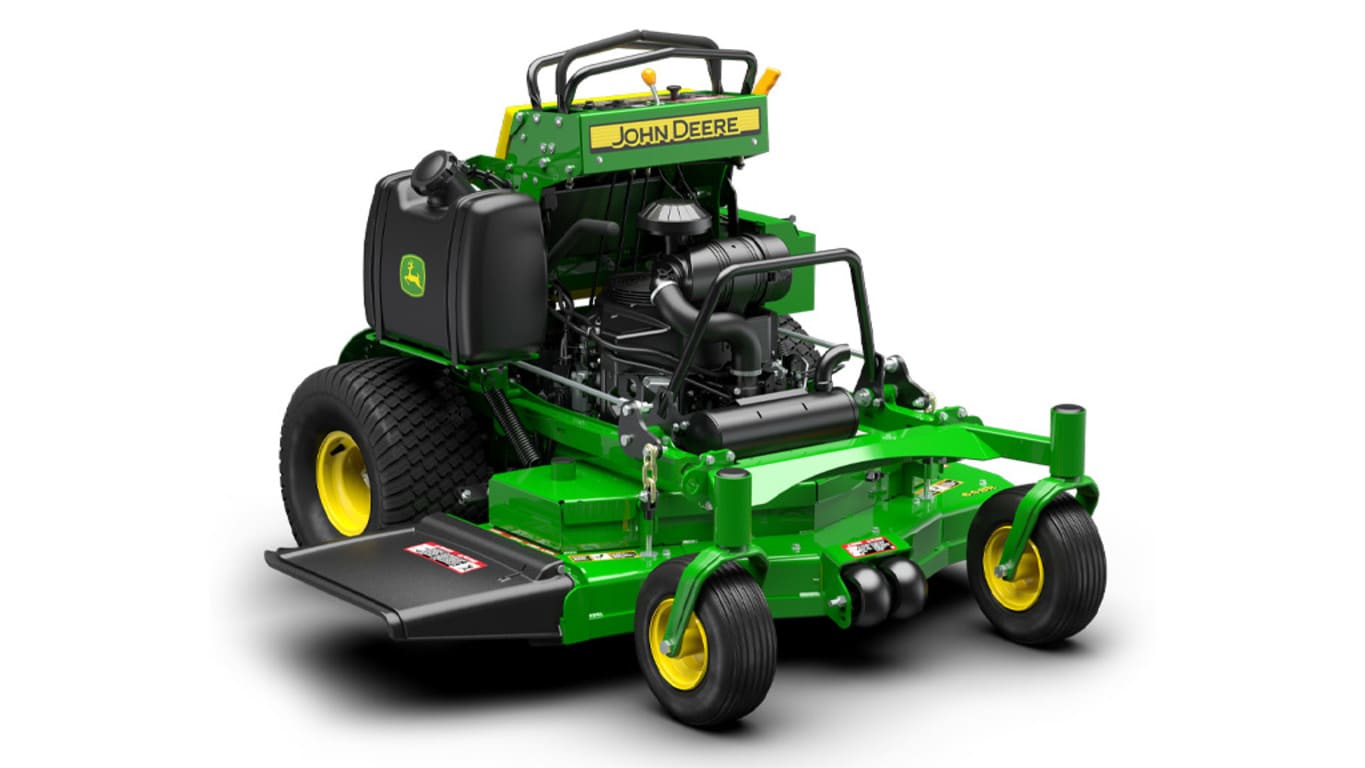 Features:
Commercial-quality engine is reliable and provides excellent performance and life
48-in. (122-cm) fabricated mower deck is made from 7-gauge, 0.179-in. (4.6-mm) steel for reliability and performance
Large operator platform and quality leaning pad enhance operator comfort
Controls are easy to locate and use for operator comfort and productivity
Exclusive two-year, bumper-to-bumper warranty is standard with a QuikTrak™ Mower
Maintenance is simple and easy to reduce time and cost
Compact design for easy hauling and excellent maneuverability
Frame is compact and durable for productivity and long life
Hydrostatic drive system is reliable and easy to use
Safety features are built-in to protect the operator and bystanders
Michelin® X® Tweel® Turf rear tire solution for QuikTrak™ R Series Mowers eliminates downtime
Field-installed propane conversion kits for commercial walk-behind mowers, QuikTrak™ mowers, and commercial ZTrak™ mowers
Specifications:
Engine Manufacturer/model

FX691V

Engine Power

Gross at 3,600 rpm: 22 hp
16.4 kW

Fuel tank capacity

5.6 U.S. gal.
21.2 L

Mower deck Size

48 in.
122 cm

Blade tip speed

18,900 fpm
5,761 m/min

Transmission

Hydrostatic

Speed range

0-9.6 mph
0-15.4 km/h

Drive wheels

20x10-8 Turf Master

Caster wheels

13x6.5-6

Warranty

24 months
Manufacturer/Model

FX691V

Power

Gross at 3,600 rpm: 22 hp
16.4 kW

Displacement

44.3 cu in.
726 cc

Cylinders

Two, V-twin

Crankcase capacity

With filter, 2.2 U.S. qt
2.1 L

Oil filter

Full flow, replaceable

Lubrication

Full pressure

Cooling

Forced air

Air cleaner

Heavy-duty canister type with safety element
Fuel type

Gasoline

Fuel tank capacity

5.6 U.S. gal.
21.2 L

Fuel tank switch/shut-off valve

Yes
Charge system

At 3,600 rpm, 20 amp

Battery voltage

12 V

Hour meter

Digital

Operator presence starting system

Yes
Transmission

Hydrostatic

Hydraulic pumps

Hydro-Gear with fans, 0.73 cu in.
12 cc

Wheel motors

Hydro-Gear, 15 cu in.
246 cc

Travel speed

Forward
0-9.6 mph
0-15.4 km/h
Reverse
0-5.5 mph
0-8.9 km/h


Speed and direction control

Twin hand-controlled levers

Hydraulic capacity

With filter-wet, 2.9 qt
2.7 L
Dry, 5 qt
4.7 L

Filter

Spin-on replaceable
Drive wheels

20x10-8 Turf Master

Load rating

4 PR
Dynamic braking

Dual hand-controlled levers

Park brake

Tire engagement

Park brake actuation

Hand lever
Type

Electro-Magnetic with brake, 200 lb-ft
271 Nm

Drive

Dual B-section V-belt with Kevlar® cord
Size

48 in.
122 cm

Deck construction

Fabricated steel, floating mount system

Deck thickness

7 gauge
0.18 in.
4.6 mm

Discharge

Side

Height-of-cut range

Increments
0.25 in.
0.64 cm
1.5-5 in.
3.8-12.7 cm

Cutting width

48 in.
122 cm
Blade tip speed

18,900 fpm
5,761 m/min

Number

Three
Caster wheel type

No-flat semi-pneumatic with sealed bearings

Caster wheels

13x6.5-6
Length

66 in.
167.6 cm

Width

Deflector down, 62 in.
157.4 cm

Height

47 in.
119 cm

Weight

910 lb
412.8 kg
Details:
652R
QuikTrak™ Stand-On Mower
Compact design for easy hauling
Hydrostatic drive system
Commercial-quality engine
Easy to maintain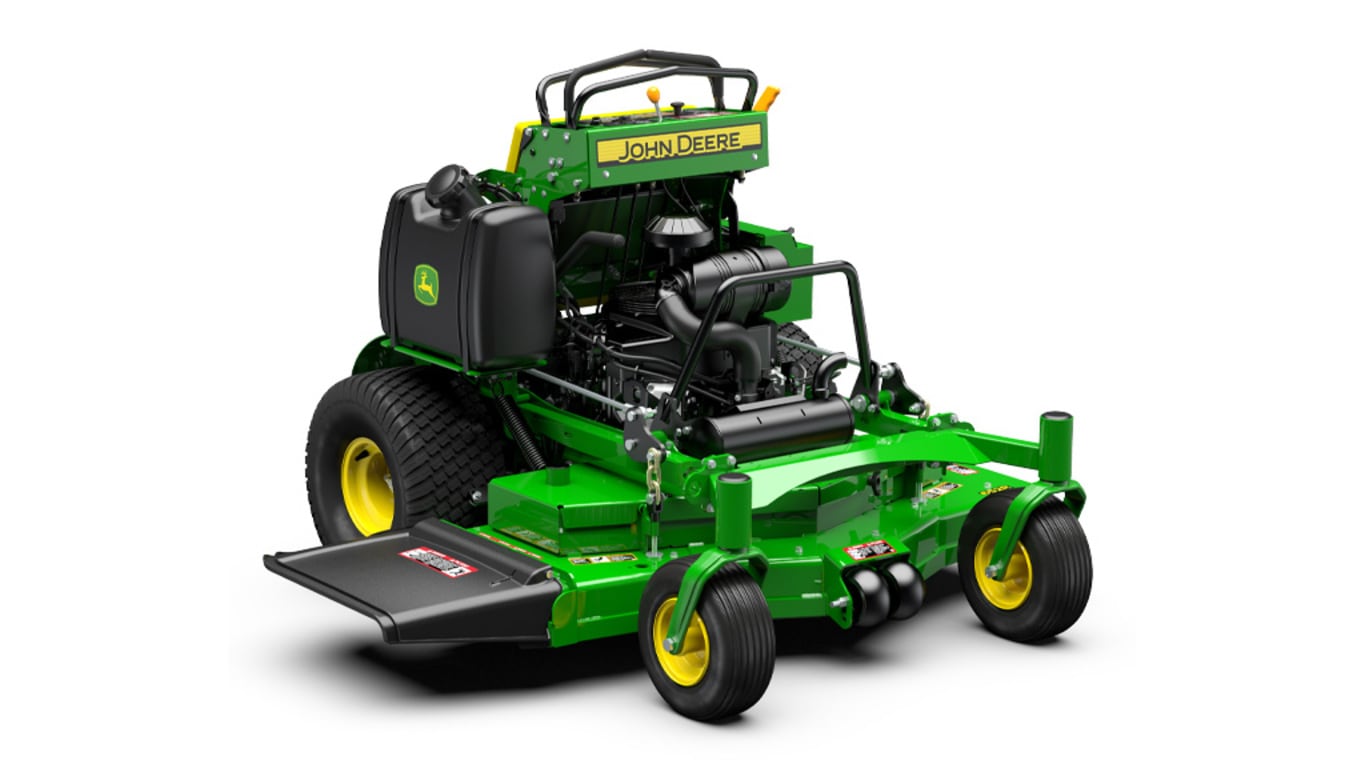 Features:
Commercial-quality engine is reliable and provides excellent performance and life
52-in. (132-cm) fabricated mower deck is made from 7-gauge, 0.179-in. (4.6-mm) steel for reliability and performance
Large operator platform and quality leaning pad enhance operator comfort
Controls are easy to locate and use for operator comfort and productivity
Exclusive two-year, bumper-to-bumper warranty is standard with a QuikTrak™ Mower
Maintenance is simple and easy to reduce time and cost
Compact design for easy hauling and excellent maneuverability
Frame is compact and durable for productivity and long life
Hydrostatic drive system is reliable and easy to use
Safety features are built-in to protect the operator and bystanders
Michelin® X® Tweel® Turf rear tire solution for QuikTrak™ R Series Mowers eliminates downtime
Field-installed propane conversion kits for commercial walk-behind mowers, QuikTrak™ mowers, and commercial ZTrak™ mowers
Specifications:
Engine Manufacturer/model

FX730V

Engine Power

Gross at 3,600 rpm: 23.5 hp
17.5 kW

Fuel tank capacity

5.6 U.S. gal.
21.2 L

Mower deck Size

52 in.
132 cm

Blade tip speed

18,900 fpm
5,761 m/min

Transmission

Hydrostatic

Speed range

0-9.6 mph
0-15.4 km/h

Drive wheels

20x10-8 Turf Master

Caster wheels

13x6.5-6

Warranty

24 months
Manufacturer/Model

FX730V

Power

Gross at 3,600 rpm: 23.5 hp
17.5 kW

Displacement

44.3 cc
726 cu in.

Cylinders

Two, V-twin

Crankcase capacity

With filter, 2.2 qt
2.1 L

Oil filter

Full flow, replaceable

Lubrication

Full pressure

Cooling

Forced air

Air cleaner

Heavy-duty canister type with safety element
Fuel type

Gasoline

Fuel tank capacity

5.6 U.S. gal.
21.2 L

Fuel tank switch/shut-off valve

Yes
Charge system

At 3,600 rpm, 20 amp

Battery voltage

12 V

Hour meter

Digital

Operator presence starting system

Yes
Transmission

Hydrostatic

Hydraulic pumps

Hydro-Gear with fans, 0.73 cu in.
12 cc

Wheel motors

Hydro-Gear, 15 cu in.
246 cc

Travel speed

Speed range
0-9.6 mph
0-15.4 km/h
Forward
0-9.6 mph
0-15.4 km/h
Reverse
0-5.5 mph
0-8.9 km/h


Speed and direction control

Twin hand-controlled levers

Hydraulic capacity

With filter-wet, 2.9 qt
2.7 L
Dry, 5 qt
4.7 L

Filter

Spin-on replaceable
Drive wheels

20x10-8 Turf Master

Load rating

4 PR
Dynamic braking

Dual hand-controlled levers

Park brake

Tire engagement

Park brake actuation

Hand lever
Type

Electro-Magnetic with brake, 200 lb-ft
271 Nm

Drive

Dual B-section V-belt with Kevlar® cord
Size

52 in.
132 cm

Deck construction

Fabricated steel, floating mount system

Deck thickness

7 gauge
0.18 in.
4.6 mm

Discharge

Side

Height-of-cut range

Increments
0.25 in.
0.64 cm
1.5-5 in.
3.8-12.7 cm

Cutting width

52 in.
132 cm
Blade tip speed

18,900 fpm
5,761 m/min

Number

Three
Caster wheel type

No-flat semi-pneumatic with sealed bearings

Caster wheels

13x6.5-6

Front anti-scalp rollers

Center, left
Length

66 in.
167.6 cm

Width

Deflector down, 66 in.
167.6 cm

Height

47 in.
119 cm

Weight

927 lb
420.5 kg
Details:
652R EFI
QuikTrak™ Stand-On Mower
Compact design for easy hauling
Hydrostatic drive system
Commercial-quality engine
Easy to maintain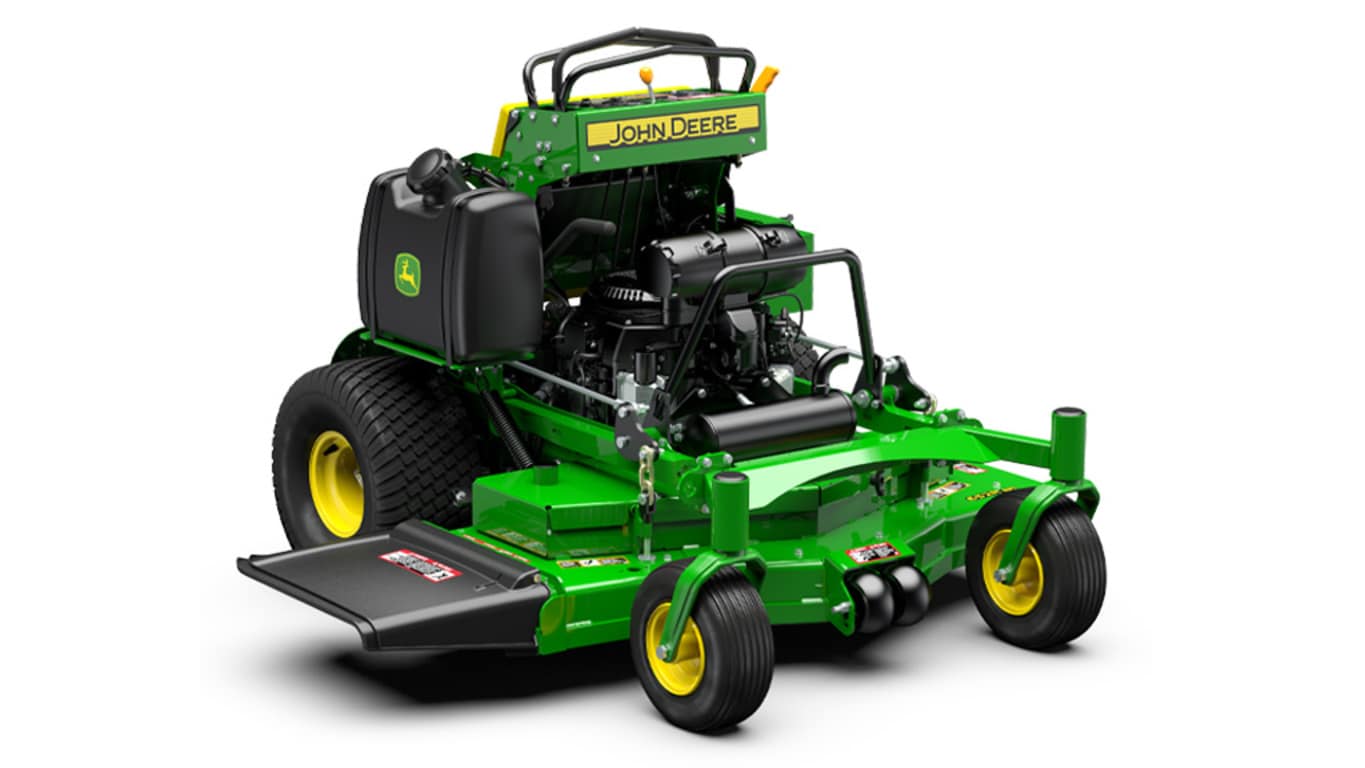 Features:
Maximize performance and efficiency with a powerful, electronic fuel injection (EFI) engine
52-in. (132-cm) fabricated mower deck is made from 7-gauge, 0.179-in. (4.6-mm) steel for reliability and performance
Large operator platform and quality leaning pad enhance operator comfort
Controls are easy to locate and use for operator comfort and productivity
Exclusive two-year, bumper-to-bumper warranty is standard with a QuikTrak™ Mower
Maintenance is simple and easy to reduce time and cost
Compact design for easy hauling and excellent maneuverability
Frame is compact and durable for productivity and long life
Hydrostatic drive system is reliable and easy to use
Safety features are built-in to protect the operator and bystanders
Michelin® X® Tweel® Turf rear tire solution for QuikTrak™ R Series Mowers eliminates downtime
Specifications:
Engine Manufacturer/model

ECV740 EFI

Engine Power

Gross at 3,600 rpm: 20 hp
18.6 kW

Fuel tank capacity

5.6 U.S. gal.
21.2 L

Mower deck Size

52 in.
132 cm

Blade tip speed

18,900 fpm
5,761 m/min

Transmission

Hydrostatic

Speed range

0-9.5 mph
0-15.3 km/h

Drive wheels

20x10-8 Turf Master

Caster wheels

13x6.5-6

Warranty

24 months
Manufacturer/Model

ECV740 EFI

Power

Gross at 3,600 rpm: 20 hp
18.6 kW

Displacement

45.6 cu in.
747 cc

Cylinders

Two, V-twin

Oil filter

Full flow, replaceable

Lubrication

Full pressure

Cooling

Forced air

Air cleaner

Heavy-duty canister with safety element
Fuel type

Gasoline, electronic fuel injection

Fuel tank capacity

5.6 U.S. gal.
21.2 L

Fuel tank switch/shut-off valve

Yes
Charge system

At 3,600 rpm, 20 amp

Battery voltage

12 V

Hour meter

Digital

Operator presence starting system

Yes
Transmission

Hydrostatic

Hydraulic pumps

Hydro-Gear with fans, 0.73 cu in.
12 cc

Wheel motors

Hydro-Gear, 15 cu in.
246 cc

Travel speed

Speed range
0-9.5 mph
0-15.3 km/h
Forward
0-9.5 mph
0-15.3 km/h
Reverse
0-5.5 mph
0-8.9 km/h


Speed and direction control

Twin hand-controlled levers

Hydraulic capacity

With filter-wet, 2.9 qt
2.7 L
Dry, 5 qt
4.7 L

Filter

Spin-on replaceable
Drive wheels

20x10-8 Turf Master

Load rating

4 PR
Dynamic braking

Dual hand-controlled levers

Park brake

Tire engagement

Park brake actuation

Hand lever
Type

Electro-Magnetic with brake, 200 lb-ft
271 Nm

Drive

Dual B-section V-belt with Kevlar® cord
Size

52 in.
132 cm

Deck construction

Fabricated steel, floating mount system

Deck thickness

7 gauge
0.18 in.
4.6 mm

Discharge

Side

Height-of-cut range

Increments
0.25 in.
0.64 cm
1.5-5 in.
3.8-12.7 cm

Cutting width

52 in.
132 cm
Blade tip speed

18,900 fpm
5,761 m/min

Number

Three
Caster wheel type

No-flat semi-pneumatic with sealed bearings

Caster wheels

13x6.5-6

Front anti-scalp rollers

Center, left
Length

66 in.
167.6 cm

Width

Deflector down, 66 in.
167.6 cm

Height

47 in.
119 cm

Weight

927 lb
420.5 kg
Details:
661R
QuikTrak™ Stand-On Mower
Compact design for easy hauling
Hydrostatic drive system
Commercial-quality engine
Easy to maintain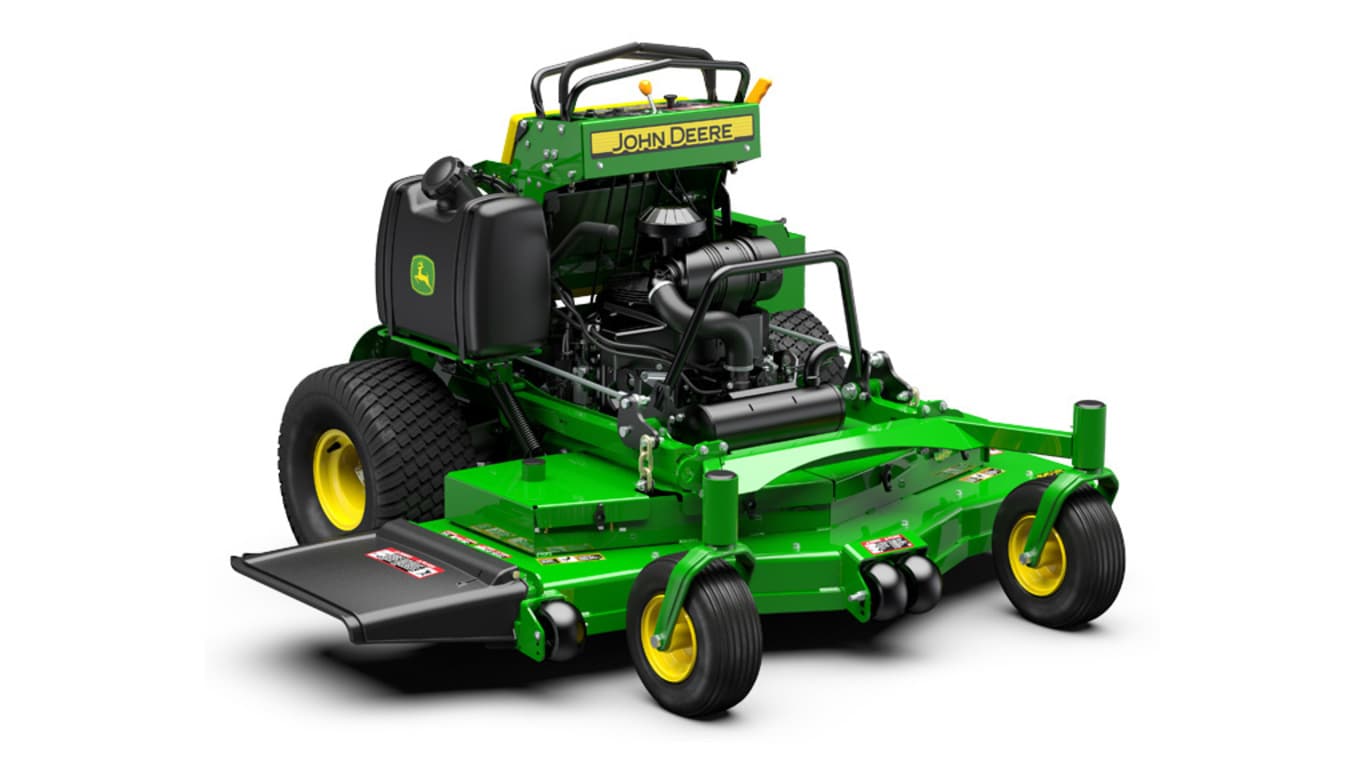 Features:
Commercial-quality engine is reliable and provides excellent performance and life
61-in. (155-cm) fabricated mower deck is stamped from 7-gauge, 0.179-in. (4.6-mm) steel for reliability and performance
Large operator platform and quality leaning pad enhance operator comfort
Controls are easy to locate and use for operator comfort and productivity
Exclusive two-year, bumper-to-bumper warranty is standard with a QuikTrak™ Mower
Maintenance is simple and easy to reduce time and cost
Compact design for easy hauling and excellent maneuverability
Frame is compact and durable for productivity and long life
Hydrostatic drive system is reliable and easy to use
Safety features are built-in to protect the operator and bystanders
Michelin® X® Tweel® Turf rear tire solution for QuikTrak™ R Series Mowers eliminates downtime
Field-installed propane conversion kits for commercial walk-behind mowers, QuikTrak™ mowers, and commercial ZTrak™ mowers
Specifications:
Engine Manufacturer/model

FX730V

Engine power

Gross at 3,600 rpm: 23.5 hp
17.5 kW

Fuel tank capacity

5.6 U.S. gal.
21.2 L

Mower deck size

61 in.
155 cm

Blade tip speed

18,900 rpm
5,761 rpm

Transmission

Hydrostatic

Speed range

0-9.6 mph
0-15.4 km/h

Drive wheels

20x10-8 Turf Master

Caster wheels

13x6.5-6

Warranty

24 months
Manufacturer/Model

FX730V

Power

Gross at 3,600 rpm: 23.5 hp
17.5 kW

Displacement

44.3 cu in.
726 cc

Cylinders

Two, V-twin

Crankcase capacity

With filter, 2.2 qt
2.1 L

Oil filter

Full flow, replaceable

Lubrication

Full pressure

Cooling

Forced air

Air cleaner

Heavy-duty canister type with safety element
Fuel type

Gasoline

Fuel tank capacity

5.6 U.S. gal.
21.2 L

Fuel tank switch/shut-off valve

Yes
Charge system

At 3,600 rpm, 20 amp

Battery voltage

12 V

Hour meter

Digital

Operator presence starting system

Yes
Transmission

Hydrostatic

Hydraulic pumps

Hydro-Gear with fans, 0.73 cu in.
12 cc

Wheel motors

Hydro-Gear, 15 cu in.
246 cc

Travel speed

Speed range
0-9.6 mph
Forward
0-9.6 mph
0-15.4 km/h
Reverse
0-5.5 mph
0-8.9 km/h


Speed and direction control

Twin hand-controlled levers

Hydraulic capacity

With filter-wet, 2.9 qt
2.7 L
Dry, 5 qt
4.7 L

Filter

Spin-on replaceable
Drive wheels

20x10-8 Turf Master

Load rating

4 PR
Dynamic braking

Dual hand-controlled levers

Park brake

Tire engagement

Park brake actuation

Hand lever
Type

Electro-Magnetic with brake, 200 lb-ft
271 Nm

Drive

Dual B-section V-belt with Kevlar® cord
Size

61 in.
155 cm

Deck construction

Fabricated steel, floating mount system

Deck thickness

7 gauge
0.18 in.
4.6 mm

Discharge

Side

Height-of-cut range

Increments
0.25 in.
0.64 cm
1.5-5 in.
3.8-12.7 cm

Cutting width

61 in.
155 cm
Blade tip speed

18,900 fpm
5,761 m/min

Number

Three
Caster wheel type

No-flat semi-pneumatic with sealed bearings

Caster wheels

13x6.5-6

Front anti-scalp rollers

Center, left
Length

68 in.
172.7 cm

Width

Deflector down, 75 in.
190.5 cm

Height

47 in.
119 cm

Weight

998 lb
452.7 kg
Details:
661R EFI
QuikTrak™ Stand-On Mower
Compact design for easy hauling
Hydrostatic drive system
Commercial-quality engine
Easy to maintain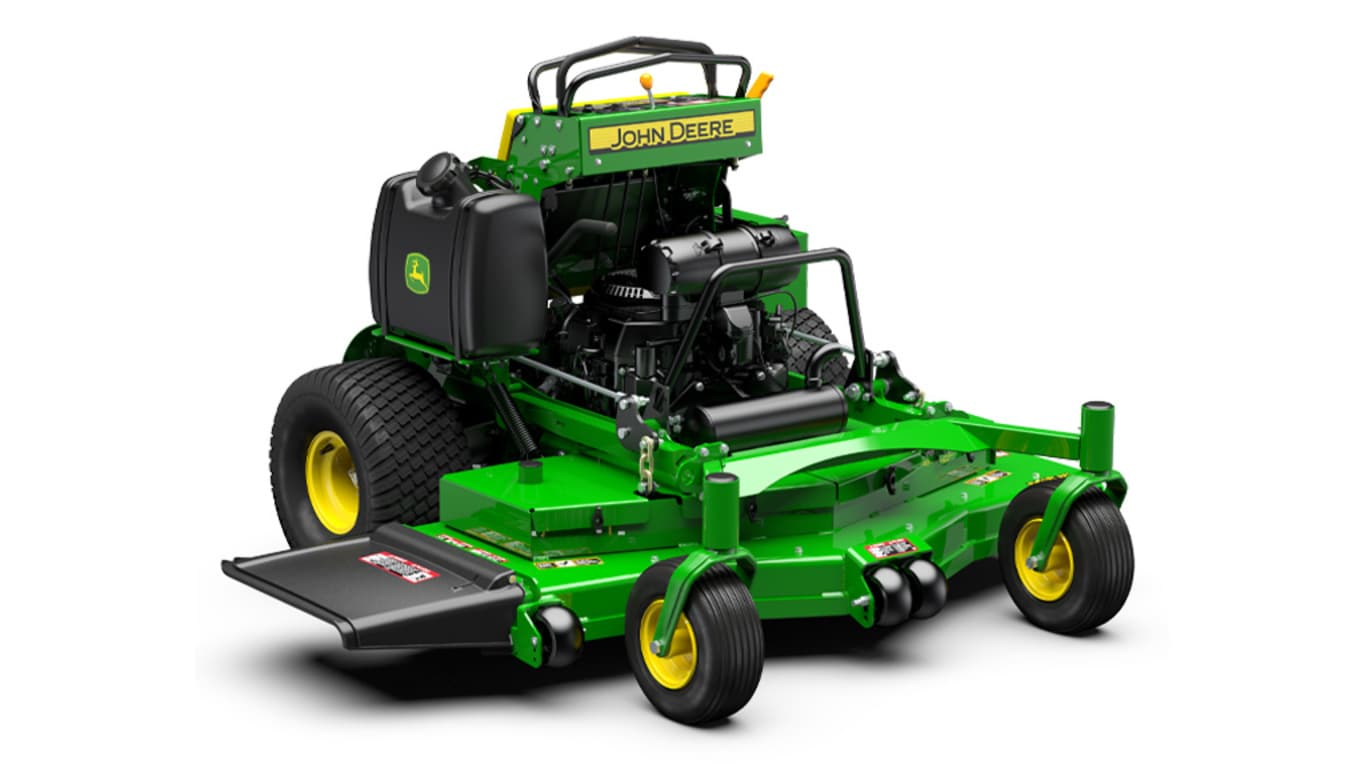 Features:
Maximize performance and efficiency with a powerful, electronic fuel injection (EFI) engine
61-in. (155-cm) fabricated mower deck is stamped from 7-gauge, 0.179-in. (4.6-mm) steel for reliability and performance
Large operator platform and quality leaning pad enhance operator comfort
Controls are easy to locate and use for operator comfort and productivity
Exclusive two-year, bumper-to-bumper warranty is standard with a QuikTrak™ Mower
Maintenance is simple and easy to reduce time and cost
Compact design for easy hauling and excellent maneuverability
Frame is compact and durable for productivity and long life
Hydrostatic drive system is reliable and easy to use
Safety features are built-in to protect the operator and bystanders
Michelin® X® Tweel® Turf rear tire solution for QuikTrak™ R Series Mowers eliminates downtime
Specifications:
Engine Manufacturer/model

ECV740 EFI

Engine Power

Gross at 3,600 rpm: 25 hp
18.6 kW

Fuel tank capacity

5.6 U.S. gal.
21.2 L

Mower deck Size

61 in.
155 cm

Blade tip speed

18,900 fpm
5,761 m/min

Transmission

Hydrostatic

Speed range

0-9.6 mph
0-15.4 km/h

Drive wheels

20x10-8 Turf Master

Caster wheels

13x6.5-6

Warranty

24 months
Manufacturer/Model

ECV740 EFI

Power

Gross at 3,600 rpm: 25 hp
18.6 kW

Displacement

45.6 cu in.
747 cc

Cylinders

Two, V-twin

Oil filter

Full flow, replaceable

Lubrication

Full pressure

Cooling

Forced air

Air cleaner

Heavy-duty canister with safety element
Fuel type

Gasoline, electronic fuel injection,

Fuel tank capacity

5.6 U.S. gal.
21.2 L

Fuel tank switch/shut-off valve

Yes
Charge system

At 3,600 rpm. 20 amp

Battery voltage

12 V

Hour meter

Digital

Operator presence starting system

Yes
Transmission

Hydrostatic

Hydraulic pumps

Hydro-Gear with fans, 0.73 cu in.
12 cc

Wheel motors

Hydro-Gear, 15 cu in.
246 cc

Travel speed

Speed range
0-9.6 mph
0-15.4 km/h
Forward
0-9.6 mph
0-15.4 km/h
Reverse
0-5.5 mph
0-8.9 km/h


Speed and direction control

Twin hand-controlled levers

Hydraulic capacity

With filter-wet, 2.9 qt
2.7 L
Dry, 5 qt
4.7 L

Filter

Spin-on replaceable
Drive wheels

20x10-8 Turf Master

Load rating

4 PR
Dynamic braking

Dual hand-controlled levers

Park brake

Tire engagement

Park brake actuation

Hand lever
Type

Electro-Magnetic with brake, 200 lb-ft
271 Nm

Drive

Dual B-section V-belt with Kevlar® cord
Size

61 in.
155 cm

Deck construction

Fabricated steel, floating mount system

Deck thickness

7 gauge
0.18 in.
4.6 mm

Discharge

Side

Height-of-cut range

Increments
0.25 in.
0.64 cm
1.5-5 in.
3.8-12.7 cm

Cutting width

61 in.
155 cm
Blade tip speed

18,900 fpm
5,761 m/min

Number

Three
Caster wheel type

No-flat semi-pneumatic with sealed bearings

Caster wheels

13x6.5-6

Front anti-scalp rollers

Center, left
Length

68 in.
172.7 cm

Width

Deflector down, 75 in.
190.5 cm

Height

47 in.
119 cm

Weight

998 lb
452.7 kg
Fulfill Your Lawn Care Needs, Big Or Small