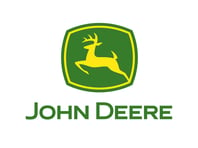 Better Maintain Your Mower And Lawn
The MowerPlus™ Smart Connector Puts Personalized Insights In Your Hands
Keep your mower and lawn at their best with the John Deere MowerPlus™ app and Smart Connector. The easy-to-install Smart Connector module requires no tools and unlocks the full power of the app, delivering personalized insights via Bluetooth, such as:
Engine hours, fuel level* and battery health
Mowing history with time, distance, area and speed
Maintenance reminders
Location-specific weather forecasts
Expert mowing tips
Downloaded the free MowerPlus app at the Apple® App Store® or Google Play™ store. Three Smart Connectors are available:
1) MowerPlus Hour Meter Connector (BUC10510) for use with:
Model year 2003 and newer 100 Series Tractors, including all models with an E, D, LA or L prefix
Model year 2015 and newer S240 Tractors (serial number -880,000)
S100, S110, S140 and S220 Tractors
2) MowerPlus Smart Connector (BUC10537) for use with:
Model year 2016 and newer Select Series X300 and X500 Tractors
3) MowerPlus Deluxe Smart Connector (BUC10929) for use with:
All S120, S130, S160, S170 and S180 Tractors
Model year 2021 and newer S240 Tractors (serial number 880,001-)
Model year 2021 and newer Z515E, Z530M, Z530R and Z545R (serial number 010,001-)
*All three connectors transmit engine hour information to the app. The MowerPlus Smart Connector and MowerPlus Deluxe Smart Connector also transmit the fuel level.
Fill out the form to speak with our experts and get connected today.